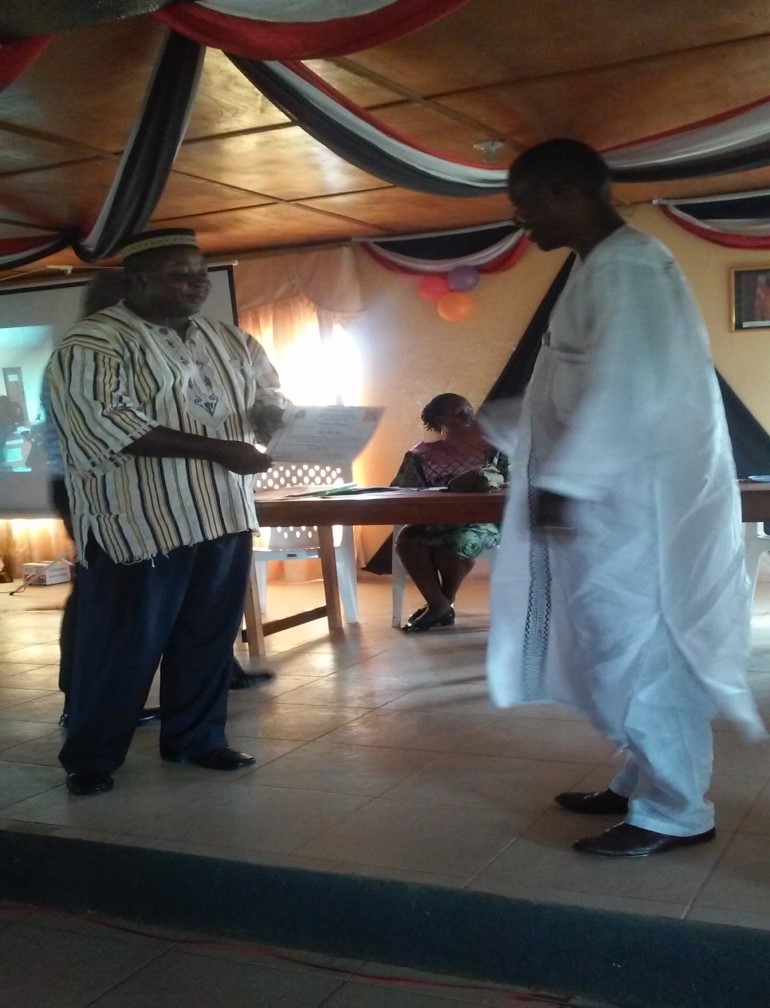 Written by: Henry Gboluma, Gbarpolu County
Bopolu City, Gbarpolu County – The Ministry of Internal Affairs in collaboration with the Gbarpolu County health Team (GCHT), on June 12, 2015 certificated individuals and partner organizations that helped in combating the Ebola Virus Disease in Gbarpolu County.
"This is in recognition of your individual outstanding and institutional commitment and dedicated support provided during the fight against the deadly Ebola Virus Diseases (EVD) in Gbarpolu County," County Superintendent, Armah Sarnor, told honorees during the program.
Hon. Armah Sarnor, dressed in a traditional country cloth, also presented an award to his predecessor Hon. Allen Gbowee for his efforts to stop the virus in the county.
Others honorees included the former Development Superintendent, Hon. Yassah-Fallah Karmo, Commissioner Olu Nangba of Bopolu District, and Chief William Mawolo, Sr., amongst other.
Additionally, institutions including UN agencies (UNFP, UNMEER), CDC, Samaritans Purse international, Civil Society Organizations county secretariat, and local organizations were also appreciated for their tremendous efforts in combatting the Ebola virus.
In his remark on behalf of the honorees, former Gbarpolu County Superintendent, Hon. Allen Gbowee said: ''yes it was tough, but we kept fighting till the end and history has remembered us as Ebola soldiers".
He dedicated the award to all the citizens of the county and used the occasion to ask the peace loving citizens to work together for the betterment of the county.
Meanwhile, the County Health Officer (CHO) said the program was a "Victory over Ebola" Event organized by the MIA and partners in the county.
On May 9, 2015, Liberia was declared Ebola free by WHO prompting President Ellen Johnson Sirleaf to asked all local authorities and partners to officially celebrate the gain on May 11, 2015.
Although Gbarpolu County celebrated the victory over Ebola in May along with the rest of the country, the county authorities also agreed to remember people who led the fight against the virus during a special program on June 12, 2015 for 'Victory over Ebola in Gbarpolu County'.

The claim is rigorous and the content is demonstrably true.
The statement is correct, although it needs clarification additional information or context.
Evidence publicly available neither proves nor disproves the claim. More research is needed.
The statement contains correct data, but ignores very important elements or is mixed with incorrect data giving a different, inaccurate or false impression.
The claim is inaccurate according to the best evidence publicly available at this time.
Upon further investigation of the claim, a different conclusion was determined leading to the removal of the initial determination.
A rude, disrespectful, or unreasonable comment that is somewhat likely to make you leave a discussion or give up on sharing your perspective. Based on algorithmic detection of issues around toxicity, obscenity, threats, insults, and hate speech;