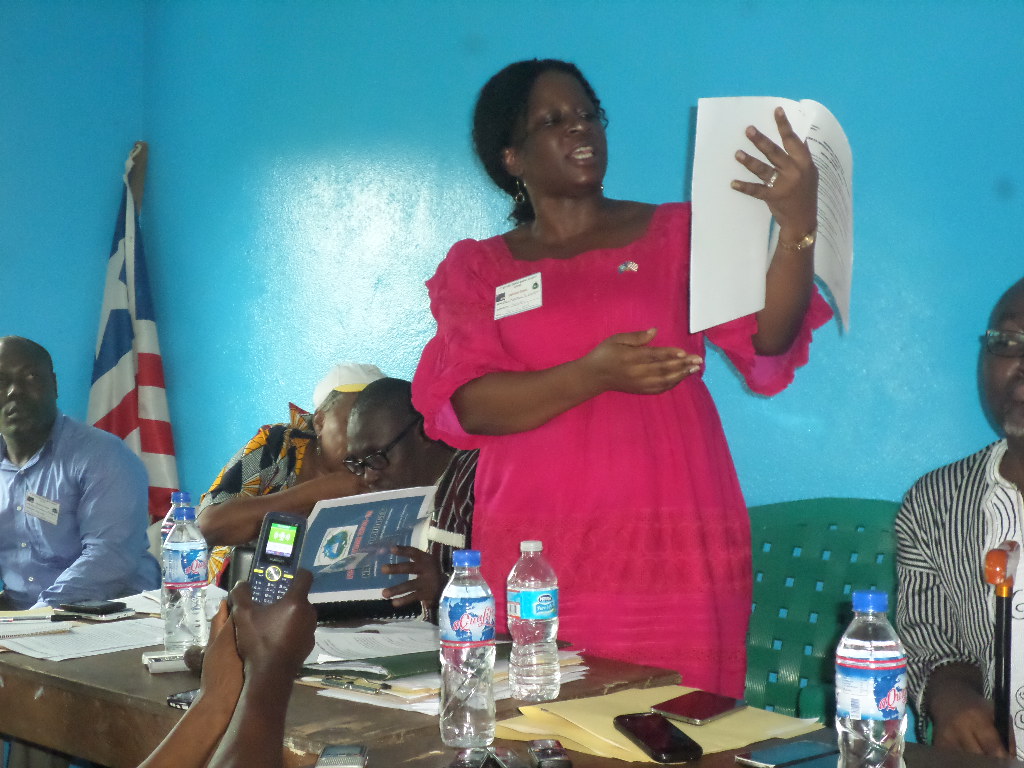 Big Joe Town, District Four – Grand Bassa County on Wednesday, July 15 resoluted just few new projects with several abandon projects prioritized for the next fiscal year. The county development sitting also saw delegates elected a new Project Management Council (PMC) – a committee mandated to manage the County Development Fund (CDF).
Held outside Buchanan City in Big Joe Town, District Four, delegates also elected T.Y Bedell, manager of the Evening Rest Funeral Service is now the PMC chair after defeating Paul Piah, an employee of the Liberia Bank for Development and Investment (LBDI) 41 to 32 votes. Moses Henry and Urias Bryant were both elected Treasurer and Controller respectively.
Grand Bassa County Legislative Caucus Chair, Senator Nyonblee Karnga-Lawrence who also chaired the sitting, called for transparency, accountability, and mutual respect amongst officials of the county as they work together to move the county forward.
Ongoing projects including the construction of a 26 bed room hospital in Wee Statutory District (District Three), the procurement of furniture and logistics for Barconnie Clinic outside Buchanan were selected as priorities. While also new projects includes the construction of a presidential guest house in Buchanan, and a school in St. John River City as well as the construction of a modern check point in Owens Groove (District One).
Barconnie Clinic, outside Buchanan has been a concern of residents for over two years now since a UN agency, UNDP completed the project and turned it over to the community but the lack of county and national support kept the clinic closed.
Grand Bassa County Superintendent Etweeda Cooper revealed that the county expended US$600,000.00 in two years. But lawmakers were concern that some projects were abandoned by contractors. Superintendent Cooper justified that several contractors that were paid but abandoned projects in the county.
Several residents attending the sitting praised the process and termed the election of the PMC as the most transparent although there were predicted fear of tension amongst stake holders including caucus members and county officials as well as students and youth after the first county development sitting was called-off on June 29 by the caucus over alleged irregularities in the selection of delegates by the county superintendent.

The claim is rigorous and the content is demonstrably true.
The statement is correct, although it needs clarification additional information or context.
Evidence publicly available neither proves nor disproves the claim. More research is needed.
The statement contains correct data, but ignores very important elements or is mixed with incorrect data giving a different, inaccurate or false impression.
The claim is inaccurate according to the best evidence publicly available at this time.
Upon further investigation of the claim, a different conclusion was determined leading to the removal of the initial determination.
A rude, disrespectful, or unreasonable comment that is somewhat likely to make you leave a discussion or give up on sharing your perspective. Based on algorithmic detection of issues around toxicity, obscenity, threats, insults, and hate speech;