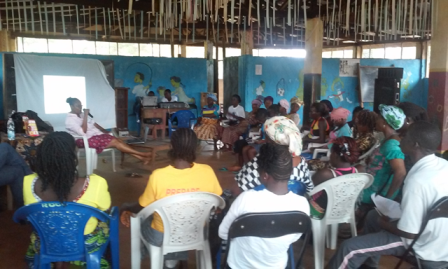 Written by: Henry Gboluma, Jr.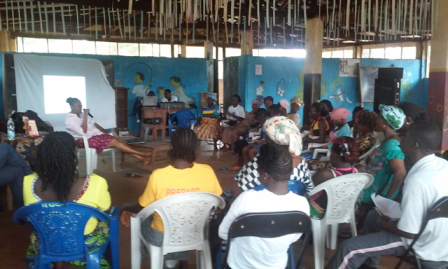 Bopolu City, Gbarpolu County – On September 7, 2015, a Liberian Mentoring Group with the support of the UNMIL Civil Affairs in Gbarpolu provided a one day intensive mentorship for closed to 30 persons in Bopolu City.
The mentorship focused on planning, respect, saving and self -educating. Madam Grace, UNMIL CDG said the overall goal of the event is to provide the opportunity where cross section of the citizens will share their experience meant to empower the community.
The mentoring section is the first of its kind organized by Madam Grace Odeke, UNMIL CDG of the Gbarpolu County field office. Participants were mostly women drawn from the business sector.
Before the mentorship, participants identified lack of training for business women by loan providers, lack of honesty, and Ebola virus outbreak amongst others as key issues affecting business women in the community.
"Even the NGOs are not treating themselves fair and the community. Because they do not do proper checking, they just come and registered people and give them loan without training, and as the result some of the women, especially our market women some of them used that same money to provide food in the house, built market table and even buy cloths," Madam Fatu Nyan said at the meeting.
Also, the Chief Accountant of the Community bank in Bopolu City, Mr. Apard Dorbor promised business women the bank's commitment in carryout mobile outreach program during the dry season to help address some of these key issues. "If you are saving with the bank, you can be in your community during the outreach and deposit or withdraw your money." Mr. Dorbor said CBL is strongly supporting the local bank adding that the MC2-Gbarpolu bank will not give loan without training beneficiaries.
The presentation stared with Madam Nancy Obi who presented on planning as business personnel, "If you want to do something you must start with a plan in order to succeed," she told the participants.
The second speaker Regina Mofokeng of South African Embassy in Liberia said: "Respect is reciprocal; cultivate self-respect within yourself than you will be able to pass it over to somebody else and then they will respect you. Respect is a process".
She cautioned the participants: "Take care of your body; eat well, exercise and inspire you minds-you the women exercise and refresh you mind" she further added that " in order to move on in live you get to have to forgive someone who have done bad thing to you".
Also Ms. Peniel Ibe (student of Environmental Science) in USA said: "If you are interested in learning more about something, even if it is how people are planting pepper, how this girl is doing her hair, how this aunty is tying her style, I like the way you are tying your style, one day I will go and ask her, Aunty, I like how you are tying your style, are want to learn it, can you teach me? That is education, I have educated myself.
She used the event to encouraged citizens in Gbarpolu especially business women to get involved in something meaningful for their family benefit, "Educating yourself, educating your children and most especially your daughter."
For her part, Madam Ify Okeke, the Manager of Internal Control at UBA Bank Liberia spoke about saving by reflecting on the previous speakers. The banker didn't discourage essence of susu (everyday saving), but rather encouraged business women to save with a bank in other to secure for profitable reasons.
Don't say because it is too small I will not save, because by the time you begin to save your 5$ every day, you will graduate from selling on table. And sell in a shop. Your level is changing," Okeke said.
She concluded by stressing the importance of saving which she said empowers marketers and called on the participants to take charged of their destiny.

The claim is rigorous and the content is demonstrably true.
The statement is correct, although it needs clarification additional information or context.
Evidence publicly available neither proves nor disproves the claim. More research is needed.
The statement contains correct data, but ignores very important elements or is mixed with incorrect data giving a different, inaccurate or false impression.
The claim is inaccurate according to the best evidence publicly available at this time.
Upon further investigation of the claim, a different conclusion was determined leading to the removal of the initial determination.
A rude, disrespectful, or unreasonable comment that is somewhat likely to make you leave a discussion or give up on sharing your perspective. Based on algorithmic detection of issues around toxicity, obscenity, threats, insults, and hate speech;