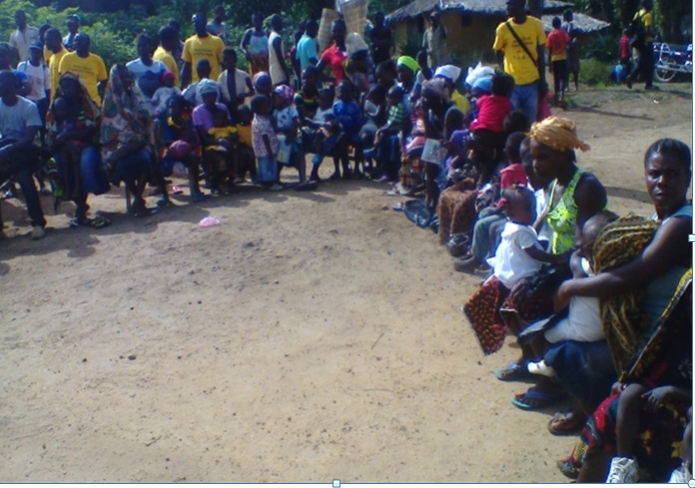 Riverces County – The Officer -In- Charge of the Charlie Town Clinic, Madam Hellen Kemue says efforts are being exerted by the County Health Team to reduce teenage pregnancy to at least 20% in Rivercess while hinting that maternal health is on the right track in the county.
"We are now educating parents and the little girls on the advantages of family planning," Registered Midwife (RM) Hellen Kemue said..
She continues: "Even though some parents are rumoring that "Family Planning" is intended to perpetually stop women from baring children, others are bringing their kids for family planning."
Madam Kemue interestingly disclosed that maternal death has drastically reduced this 2016 saying Trained Traditional Midwives (TTMs) in the county are now taking pregnant women to health facilities for delivery. "At least 90% are no longer conducting home Delivery, because this was the major cause of maternal death," RM Kemue stressed.
She attributed the progress to the numerous awareness and training given the TTMs by the County Health Team, facilitated by Last Mile Health – a nongovernmental organization in the county. The OIC noted that TTMs/TBAs are gathered at the clinic every month to talk about referral and facility delivery
Rivercess County experienced a number of maternal deaths in 2013 and 2014 respectively, during these years, more than 13 women died in 2013 and 4 in 2014 during child birth.
With these stats, it became scaring and challenging for several health care workers involved with maternal health in the county. The OIC than used the opportunity to call on pregnant women in the catchment to visit the clinic at least four times before delivery.
"Every pregnant woman needs a special care and it is at the clinic this care can be provided," she concluded.
In 2015, Health workers in the County reported that 6 to 7 out of every ten pregnant women who visited clinics wer teenage mothers.
Vaccination Campaign Begins
Meanwhile, River Cess County Health Team has embarked on a five day Immunization Campaign for children less than one year old. According to the Health Promotion Focal Person (HPFP) Mr. Yorgie Flomo, the Campaign is meant to capture those children who missed out their routine vaccines due to long distances and other reasons.
Yorgie says the exercise resumed July 20 and will continue until July 24 2016 and all vaccinators at the various facilities are expected to participate in the process. The HPFP noted that vaccinators will go from town to town and from village to village to vaccinate those children who haven't taken their vaccines.
"All childhood disease preventable vaccines will be administered during these five days targeting children less than five years ," Yorgie said.
According to the Ministry of Health, every child is supposed to be vaccinated five times before reaching one year. Parents and or caregivers are to take along their children's vaccine cards to the clinic for every time they visit the facility.
Speaking to Journalists via mobile phone from his Cestos City Office, Mr. Flomo noted that some children missed out on the vaccines due to long distances their parents or caregivers have travel to get to a facility and other reasons.
According to the Child Survival Focal Person (CSFP) of the River Cess County Health Team, Mr. Augustine Tehteh, children who take the vaccines will be protected against diseases such as Measles, Poliomyelitis (polio), Pertussis (Whooping Cough) Tetanus (lockjaw) and Varicella (Chickenpox) amongst other childhood diseases.
Mr. Tehteh called on all parents and caregivers to take advantage of the campaign in order to have their children vaccinated which will keep them healthy.
Report by: Eric Opa Doue

The claim is rigorous and the content is demonstrably true.
The statement is correct, although it needs clarification additional information or context.
Evidence publicly available neither proves nor disproves the claim. More research is needed.
The statement contains correct data, but ignores very important elements or is mixed with incorrect data giving a different, inaccurate or false impression.
The claim is inaccurate according to the best evidence publicly available at this time.
Upon further investigation of the claim, a different conclusion was determined leading to the removal of the initial determination.
A rude, disrespectful, or unreasonable comment that is somewhat likely to make you leave a discussion or give up on sharing your perspective. Based on algorithmic detection of issues around toxicity, obscenity, threats, insults, and hate speech;