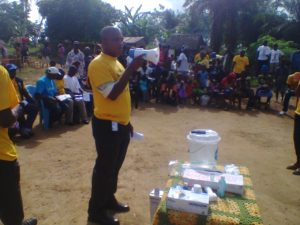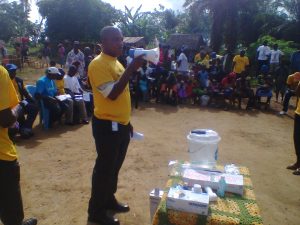 Zorzor, Lofa County-the referral hospital in the district is vaccinating from six (6) to fifteen (15) weeks old children with the ROTA vaccines. The vaccine came in the country in May 2016 by the government of Liberia to help prevent children from 6 to 15 weeks old getting diarrhea and others sickness.
The head vaccinator at the district referral hospital in Zorzor city Lofa County is calling on parents to bring their children less than one year for the ROTA vaccines. Mr. mulbah B. Koiboi said that the number of mothers bringing their children for the vaccines has decrease so he calling on the parents to take advantage of the opportunities.
Speaking to reporter about important of vaccines district health officer Daniel Fayiah said, the vaccine is very  good for children less than one year old because its help prevent them from getting diarrhea and other sicknesses. He also expresses regret over the decrease in administering the vaccines.
When contacted by reporter one the mothers who usually take her son to the vaccines site said the vaccines is good for children since her son started taking the vaccines she has not encounter problem with her son.
"the vaccine is good for children after every one month I take my son to the vaccine place for the vaccine and I started carrying he there he healthy." Madam Krubo Forkpah explained.
Mrs. Deddeh Bryan a baby mother who is not in know of the vaccine complained there is no awareness on air about the vaccine and when she give birth to her daughter in hospital the information was not clear to her about the vaccine. She is calling on the authority to make more awareness.
The ROTA vaccines are administered after every one month at the various clinics and hospital in the district and the ROTA vaccines is free of charge.
Speaking to the reporter about the level of awareness made, the vaccinator of the curran Lutheran hospital Mr. Koiwu Mulbah said there awareness made on radio and at various clinic and health center. He further said that the vaccine is a medicine for children from 6 to 15 weeks old so more awareness need to be done.
He is calling on all babies mothers to carry their children or child less than 15 months for the vaccine after every one month.

The claim is rigorous and the content is demonstrably true.
The statement is correct, although it needs clarification additional information or context.
Evidence publicly available neither proves nor disproves the claim. More research is needed.
The statement contains correct data, but ignores very important elements or is mixed with incorrect data giving a different, inaccurate or false impression.
The claim is inaccurate according to the best evidence publicly available at this time.
Upon further investigation of the claim, a different conclusion was determined leading to the removal of the initial determination.
A rude, disrespectful, or unreasonable comment that is somewhat likely to make you leave a discussion or give up on sharing your perspective. Based on algorithmic detection of issues around toxicity, obscenity, threats, insults, and hate speech;