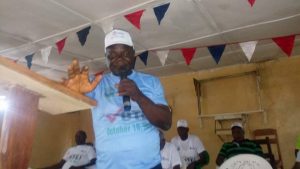 Gbarpolu County – The National Elections Commission (NEC) kicked off the civic and voters education (CVE) campaign in Gbarpolu County to adequately inform registered voters about the elections on October 10, 2017.
"Civic educators will move from communities to communities and from homes to homes to talk with people as well as distribute voters educational materials," an official of NEC said at the launch of the exercise in Bopolu City on August 18.
Samuel king, speaking as youth representative during the launch, assured that youth in the county would not get involved with election violence.
He then called on politicians not to use "cash violence to incite" young people against each other.
"We need to be determined so that they [politicians] will not see us as hungry young people and use money to split us apart. It will not be good for us as youth – so let me say that we will preach peer non-violence civic and voter education even in our individual political parties." Samuel King, Gbarpolu County Youth represenative.
Meanwhile, Chief Willaim Mawolo promised to buttress the work of the elections commission in sensitizing voters across the county.
"You say you get 29 CVE campaigners in the county, for us the Chiefs, we will triple, triple and triple that number. The Chiefs have this country; when we speak, we speak and our people listen, " said Chief Mawolo.
"We will tell our chiefs to inform their town criers to be civic educators too beginning now," he added, praising NEC for managing the elections process peacefully so far.
"I know every elections there are challenges, we've been listening to the people talking, and talking plenty any time you missed a step or even when you do the right things. But let me tell you that you are doing well, so keep up until we elect our people them in peace."
The launch of the CVE in the county included a street parade in Bopolu City and ended at the St. Monica Catholic Compound where a brief indoor program brought together over a thousand people from various political parties, civil society groups, traditional leaders, religious groups, women, youth and the disabled community.
Reading the statement on behalf of NEC chairman, the head of secretariat of the 2017 elections, Rennie Gelegbar said there are over 90 civic society organizations across the country conducting voters education, which he said started on August 18 and will last for two months."A very important component of the civic education campaign is the used of the media, especially
"A very important component of the civic education campaign is the used of the media, especially community-based radio stations to spread the messages through jingles, special talk shows, and public services announcements – all aimed at discussing the steps and producers during the elections," he said.
Gelegner said there are about 1,024 candidates out of which 163 are female and 861 are male, with 20 presidential and vice presidential candidates respectively. He said there are 928 candidates representing political parties and 96 are independent.
The NEC official informed citizens that 74 electoral positions will be contested.
Explaining to the audience, Mr. Gelegbar said absolute majority applies only to the election of president and vice president which means a candidate must obtain an absolute majority of 50%+1 vote of the total votes cast in the first round to be declared winner or a run-off election will be conducted on the second Tuesday following the first round which will be on November 7, 2017.
"And for the representative, it's a simple majority – winner must obtain more votes than their oppositions within their respective electoral district in the country to become a winner," he said.
At the event, citizens were encouraged to remain civil and conduct themselves in an orderly manner during political campaigns and on election's day.
"Remember, we are all brothers and sisters, and no political issue whatever, should pull us apart during and after the electoral exercise," the NEC official said.
Kollie Lamandine, NEC Gbarpolu County magistrate, said 20 civic educators and nine gender mobilizer have been recruited and assigned across the county.
"This year election is everybody's business, so we need your political parties and citizens of Gbarpolu to join us in making sure to reduce invalid votes comes October 10," said Lamandine.
Speaking on behalf of the political parties and independent candidates in the county, Mr. Jonathon Nyanquelleh of the Unity Party commended the commission for sticking to its calendar of event.
"We will use our campaign activities' events to be encouraging our people to turn out and vote on October 10 and we will continue to be peaceful in all our activities," Nyanquelleh said.
Report By: Henry Gboluma, Jr.

The claim is rigorous and the content is demonstrably true.
The statement is correct, although it needs clarification additional information or context.
Evidence publicly available neither proves nor disproves the claim. More research is needed.
The statement contains correct data, but ignores very important elements or is mixed with incorrect data giving a different, inaccurate or false impression.
The claim is inaccurate according to the best evidence publicly available at this time.
Upon further investigation of the claim, a different conclusion was determined leading to the removal of the initial determination.
A rude, disrespectful, or unreasonable comment that is somewhat likely to make you leave a discussion or give up on sharing your perspective. Based on algorithmic detection of issues around toxicity, obscenity, threats, insults, and hate speech;