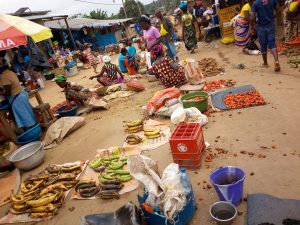 Pleabo, Maryland County – Marketers in Pleabo City say they are struggling to keep their businesses afloat due to increasing transportation fare and the challenge of moving goods, which is created by the deplorable condition of feeder roads.
Many female marketers travel to rural towns to purchase farm produce but moving these commodities to major cities in Maryland County is a daunting challenge.
A group of local female marketers at Pleebo general market on August 17 told a LocalVoicesLiberia reporter based in the county that improving these feeder roads in the county would alleviate the constraints.
Sarah Gelogeor, a palm nut seller, said marketers like her pay 'a very high transportation" fare to get their commodities to the city.
"The harmful part of local businesses is that the little money we can take from our husbands or credit from people to do business, drivers don't care if we are losing," she said.
"They charged us money that we don't even put in the business, looking at the condition of us, we are selling in the rain and sun just to make life."
She said 65% of the profits they raised from sales go towards transportation fares.
Sarah said the situation in the county is similar to what's happening in other counties across Liberia where bad roads continue to affect locals who heavily rely on farming and retail of farm produce as a source of livelihood.
The situation is a total neglect of the sustainable development goals of Liberia, she said, while calling on the government through the county authorities to rehabilitate feeder roads in the county.
Another marketer, Betty Wilsner, added, "Liberia can be developed only if central government find interest in promoting agriculture in the country".
She said, when given more attention, agriculture could help Liberians focus on achieving success for the country.
Reports By: Micheal Wroh

The claim is rigorous and the content is demonstrably true.
The statement is correct, although it needs clarification additional information or context.
Evidence publicly available neither proves nor disproves the claim. More research is needed.
The statement contains correct data, but ignores very important elements or is mixed with incorrect data giving a different, inaccurate or false impression.
The claim is inaccurate according to the best evidence publicly available at this time.
Upon further investigation of the claim, a different conclusion was determined leading to the removal of the initial determination.
A rude, disrespectful, or unreasonable comment that is somewhat likely to make you leave a discussion or give up on sharing your perspective. Based on algorithmic detection of issues around toxicity, obscenity, threats, insults, and hate speech;