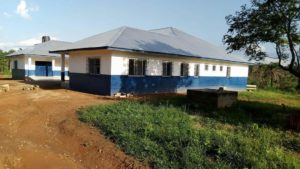 Report By: Maxwell K. Saah
Lofa County – Residents of Foya District have welcomed the official opening of a new public health facility in that part of the country, almost four years since the Ebola outbreak devastated several communities in the district.
The new Foya community health center has been named the Eugene Fallah Kparkar Memorial Medical Center. It is in honor of the late former representative of the district.
Speaking during the ceremony, Senator George T. Tengbeh outlined the importance of establishing a health center in the district, adding that it will go a long way in addressing some health challenges of locals.
The ceremony brought together traditional leaders, elders, Youth and women groups as well as development partners.
Hon. Tengbeh thanked all those who contributed and supported the construction of the health center and stressed the need for more support to ensure the facility caters to the numerous health needs of the community.
He said that his dream is to see that many people of Foya statutory district get health care and that one day the new medical center will become a fully functional hospital.
The new facility was constructed by a local construction firm, Tamba Taikor Construction Company, through the Liberia Agency for community empowerment (LACE).
Hon. Francis Sackilah Nyumahlin, Foya District Representative, said the health center will help improve the health delivery system of his constituency.
He used the occasion to pay tribute to the late Eugene Fallah Kparkar for initiating such a worthy project for the people of the district.
Hon. Nyumahlin called on his constituents to take ownership of the medical facility by adhering to all the procedures that will be put in place by the administration and health workers.
Foya is strategically located near the borders with Guinea and Sierra Leone. The district has struggled due to the lack of a public health facility and was one of the communities in the county that was gravely devastated by the Ebola outbreak.
The lawmaker said the district opted to have a public health facility after the Ebola outbreak.
The Lofa County lawmaker added that the initiative was under the auspices of the Legislative Support Project of Hon. Kparkar, Senator Steve Zargo and himself.

The claim is rigorous and the content is demonstrably true.
The statement is correct, although it needs clarification additional information or context.
Evidence publicly available neither proves nor disproves the claim. More research is needed.
The statement contains correct data, but ignores very important elements or is mixed with incorrect data giving a different, inaccurate or false impression.
The claim is inaccurate according to the best evidence publicly available at this time.
Upon further investigation of the claim, a different conclusion was determined leading to the removal of the initial determination.
A rude, disrespectful, or unreasonable comment that is somewhat likely to make you leave a discussion or give up on sharing your perspective. Based on algorithmic detection of issues around toxicity, obscenity, threats, insults, and hate speech;