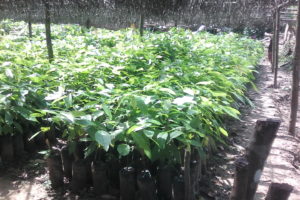 Report By: Ibrahim Sesay
Gbarpolu County – A cocoa tree crop project has been launched in Wealiquah Town, Gbarma District in Gbarpolu County. The project is initiated by a local non-governmental organization, Diversity Farm.
Launching the program on Wednesday August 22, the chief of Representative Joseph Matthew of District #3, Gbarpolu County Joseph Roberts recommended that the government reestablish the agriculture bank.
"I am recommending our national government to establish agriculture banks across the country to help our farmers. This will help our farmers to expand on their farm and to help them maintain their farms," he said.
Roberts urged beneficiaries of the project to see tree crops farming as a means of transforming their lives and the next generation.
"I want to encourage those of you benefiting from this program today to see it as a means of transforming your life your generations to come," he said.
Also speaking during the launch of the program, the chief executive officer (CEO) of Diversity Farm, Aaron Dahn expressed satisfaction with the work and the cooperation of farmers, adding that the process started with 27 farmers and each of them will receive 450 cocoa tree crops for planting on one acre of land.
He promised to work with the farming groups of Wealiquah Town for the project to become successful.
For his part, Yangarya clan Chief Varney Sirleaf thanked Mr. Dahn for undertaken the agricultural project. He suggested that the project be extended to other parts of the county, stating that it will help improve the living condition of locals.
Meanwhile, a beneficiary of project Bendu Zinnah was upbeat after receiving her tree crops.
"I am very happy for this kind of program. For me, I am from Gbarma District and it (the project) will really help us because it is a money making thing," she said.

The claim is rigorous and the content is demonstrably true.
The statement is correct, although it needs clarification additional information or context.
Evidence publicly available neither proves nor disproves the claim. More research is needed.
The statement contains correct data, but ignores very important elements or is mixed with incorrect data giving a different, inaccurate or false impression.
The claim is inaccurate according to the best evidence publicly available at this time.
Upon further investigation of the claim, a different conclusion was determined leading to the removal of the initial determination.
A rude, disrespectful, or unreasonable comment that is somewhat likely to make you leave a discussion or give up on sharing your perspective. Based on algorithmic detection of issues around toxicity, obscenity, threats, insults, and hate speech;