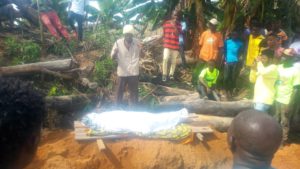 Report By: Henry Gboluma, Jr.
Gbarpolu County – A 35-year-old woman has been arrested for stabbing another woman to death on Sunday morning – September 30, 2018.

According to eyewitnesses, Sando Konneh alleged that Gbola Sheriff, 33, was having a love affair with her husband. She was therefore charged with murder and sent her to court on Monday, October 1, 2018, for a trail.
The incident took place around 7:00 Am in Mali Town about one-hour-thirty-minute drive away from Bopolu City, the capital of Gbarpolu County.
Agnes Kamara, a 26-year-old eye witnessed the incident, said: "This morning (Sunday) I wake up and met them making noise."
According to Kamara, when confusion ensued between the two women, threats were made by each one of them and then Sanoe accused Gbola of having love affairs with her husband in the bush in exchange for palm wine. She said Gbola bitterly denied the allegation.
Kamara narrated how the accused used a small black knife to stab her victim.
Another eyewitness, 44-year-old George Binda said he had earlier advised the late Gbola to quite the confusion and make use of the court process. He added that they both agreed before he left the scene.
"But to my surprise, Gbola called my name and said Sando finished killing me," he said.
"Gbola [did] not love to her husband. Gbola loved to her husband small brother."
Armah Dono, town chief of Mali Town who was not present when the incident occurred, said upon his arrival he called the attention of the community people for help in order to save the life of the victim but it was too late.
For his part, the husband of the accused James Tokpa denied having a love affair with the victim.
The local leadership of Mali town immediately informed the county joint security and they urgently moved in and set-up a 15 man coroner jury.
The team established that Gbola Sheriff was intentionally stabbed with a sharp instrument that resulted in internal bleeding, which led to her death.
According to the LNP charged sheet, Sando Konneh violated the new panel code of Liberia section 14.1.

The claim is rigorous and the content is demonstrably true.
The statement is correct, although it needs clarification additional information or context.
Evidence publicly available neither proves nor disproves the claim. More research is needed.
The statement contains correct data, but ignores very important elements or is mixed with incorrect data giving a different, inaccurate or false impression.
The claim is inaccurate according to the best evidence publicly available at this time.
Upon further investigation of the claim, a different conclusion was determined leading to the removal of the initial determination.
A rude, disrespectful, or unreasonable comment that is somewhat likely to make you leave a discussion or give up on sharing your perspective. Based on algorithmic detection of issues around toxicity, obscenity, threats, insults, and hate speech;