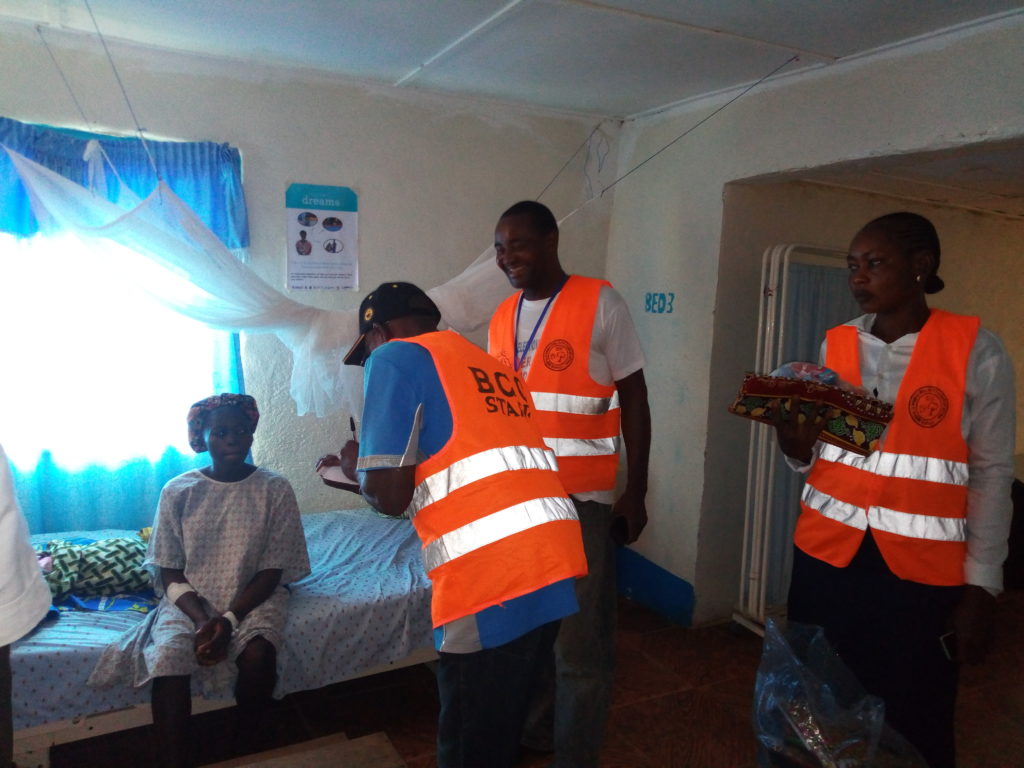 Bopolu City, Gbarpolu County – Mothers of newly born babies at the main referral health center in Gbarpolu County have hailed the Bopolu City Corporation for donating several items to them.
On April 30 and May 7, 2019, 14 baby mothers received baby's clothing, soap, and lappers as well as other gifts from the Mayor of Bopolu City, Zinnah Normah.
The initiative is to support the government's effort to encourage pregnant women to avoid home delivery and always delivery at a health facility, the Mayor said.
Mayor Normah said, "We want mothers to take advantage of the Hospital for safe delivery in other to have a healthy baby."
On the first day of the donations, the Mayor said the BCC considers every Tuesday as "Babies Mother's Day" at the Jallah Lone Hospital in Bopolu City.  
He also assured health authorities that his team will not only focus its donation on the hospital.
"I want to promise you that this will not only be the first and the last time. My team and I will come around every Tuesdays to give out materials to newborn babies' mothers and pregnant women. We will gradually extend this goodwill to other clinics in the county for the next six months," he said.
Meanwhile, the County Health Officer of Gbarpolu County, Dr. Musa Zwannah appreciated the BCC initiative.
Dr. Zwannah said, "It has been very long times we have not received this kind of donations and seeing you as a young man and Mayor of Bopolu, what you are you doing and continues to do for your people is welcoming."
He promised to work with the office of Mayor Normah to enhance his initiative at the hospital weekly.
"Every week our team from this department will be here to identify newborn babies' mothers to help you supply them," he concluded.
The beneficiaries expressed excitement, telling LocalVoicesLiberia that the donation was timely.
"I am very happy about the things I got for myself and my baby because since I gave birth, this is the first time that my baby is going to wear this kind of materials," said a smiling Cecelia Jackson, who said "since I lost my man during my pregnancy things have not been easy with me."
For Gay duo Beyan, she wants to hail the gifts and wants the BCC family to continue their good gesture in other to increase health facility delivery in the county.
"I just want to tell them to continue this help so that our friends can also come here for safe delivery and get their own materials from them too," she said.
Esther Smith, a mother of a two-day-old child, added, "I am very, very happy and just want to say thanks to the mayor".
The mothers also described the donation as an initiative that is in the right directions that will boost the morale of mothers while going home.
They want other pregnant women to go to health centers when they in labor pain instead of giving birth at home.
Report By: Bendu white In Gbarpolu County

The claim is rigorous and the content is demonstrably true.
The statement is correct, although it needs clarification additional information or context.
Evidence publicly available neither proves nor disproves the claim. More research is needed.
The statement contains correct data, but ignores very important elements or is mixed with incorrect data giving a different, inaccurate or false impression.
The claim is inaccurate according to the best evidence publicly available at this time.
Upon further investigation of the claim, a different conclusion was determined leading to the removal of the initial determination.
A rude, disrespectful, or unreasonable comment that is somewhat likely to make you leave a discussion or give up on sharing your perspective. Based on algorithmic detection of issues around toxicity, obscenity, threats, insults, and hate speech;