Stay informed with happenings in your county, follow LocalVoicesLiberia every week day for the latest update on COVID-19 and other important developments.
---
Grand Gedeh County: Investigating Girl's Death
---
---
The crime services division of the Liberia National Police, Grand Gedeh County detachment has launched an investigation into the death of a 22-year-old lady who was found dead in Zwedru.
According to eyewitnesses, the woman was discovered dead in a well early Friday morning within the Chayeeville community.
"I woke up early this morning and went in my garden, while there I heard crying from the yard, so I came back with running, when I reached, my son told me that someone had fallen in the well with their slippers left around the well, so while checking our children, we noticed it was my neighbor's daughter Angeline Quayee," explains Henry Zonwea, a neighbor of the deceased.
"The little girl was respectful and submissive to everyone in this yard and even the community, so to see her laying in the well this morning is too painful to me".
Meanwhile, the decease's father, Mr. Quayee Choloplay told LocalVoicesLiberia that his daughter was epileptic, adding that she was often warned against venturing around water and fire but she was adamant.
Meanwhile, the late Angeline has been laid to rest following the police preliminary investigation.
---
River Gee County: Hunter Found Dead
---
---
A man identified as Mark Woryeah of Nimba County but based in River Gee County was on June 18, discovered dead on a farm about 30 minute-walk away from Fish Town.
According to police report, he died from a single barrow gun wound, after he was shot by unknown individuals.
Given the decaying status of his remains, according to the LNP, which might have stayed on the scene for several days before it was discovered, he has been buried.
The police have, however, launched an investigation into circumstances leading to his dead, while ensuring family members that total justice will be dispensed.
---
Maryland County: Keeping STIs, HIV/AIDS Awareness Afloat
---
---
A youth-based organization in Pleebo Sodoken District, Maryland County, Volunteers For Healthy Liberia (VOHL) has embarked on community awareness about other diseases despite the current health threat from the coronavirus pandemic.
According to Theophilus Tues Quaye, "there are other growing health issues which need to be looked at to avoid another future health crisis that might affect young people."
He named Sexual Transmitted Infections and HIV/AIDS as other health concerns that must also be talked about among young people while the county prevents the spread of COVID-19.
Quaye said STIs create a "large burden and a serious consequence that require hasty attention" among young people.
He warned that during the lock down not everyone, especially young people, is protecting themselves during sexual intercourse. This, he added, creates high risk of STIs transmission daily.
"It is on this backdrop we #VOHL decided to intervene. We are well organized, balanced and positive about our intervention," Quaye said, adding that "peer-to-peer education is the means of moving to the next level of eradicating STIs from Maryland County".
---
Lofa County: Two Health Workers Infected
The two new cases involving the lab technician at the Outpatient Department (OPD) of Tellewoyan Memorial Hospital and a prominent businessman, bring to six the current number of confirmed Covid-19 cases in the county.
Meanwhile, the medical director of the Tellewoyan Memorial Hospital, who came in contact with one of the confirmed cases, has sent his specimen to Monrovia for testing.
The county health team is currently contemplating the closure of the hospital's OPD for a considerable period to curb the further spread of the virus.
---
Grand Bassa County: Aiding Communities
---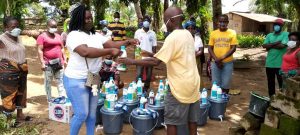 ---
Women Rights Watch (WORIWA) has begun distributing non-food items to beneficiaries in six communities of Buchanan City Grand Bassa County.
The group says this is a means of supporting the fight against COVID-19. Several homes in and out of Buchanan benefited from the COVID 19 supplies.
The group has been working in Grand Bassa County for over five years promoting women issues in the county.
---

The claim is rigorous and the content is demonstrably true.
The statement is correct, although it needs clarification additional information or context.
Evidence publicly available neither proves nor disproves the claim. More research is needed.
The statement contains correct data, but ignores very important elements or is mixed with incorrect data giving a different, inaccurate or false impression.
The claim is inaccurate according to the best evidence publicly available at this time.
Upon further investigation of the claim, a different conclusion was determined leading to the removal of the initial determination.
A rude, disrespectful, or unreasonable comment that is somewhat likely to make you leave a discussion or give up on sharing your perspective. Based on algorithmic detection of issues around toxicity, obscenity, threats, insults, and hate speech;