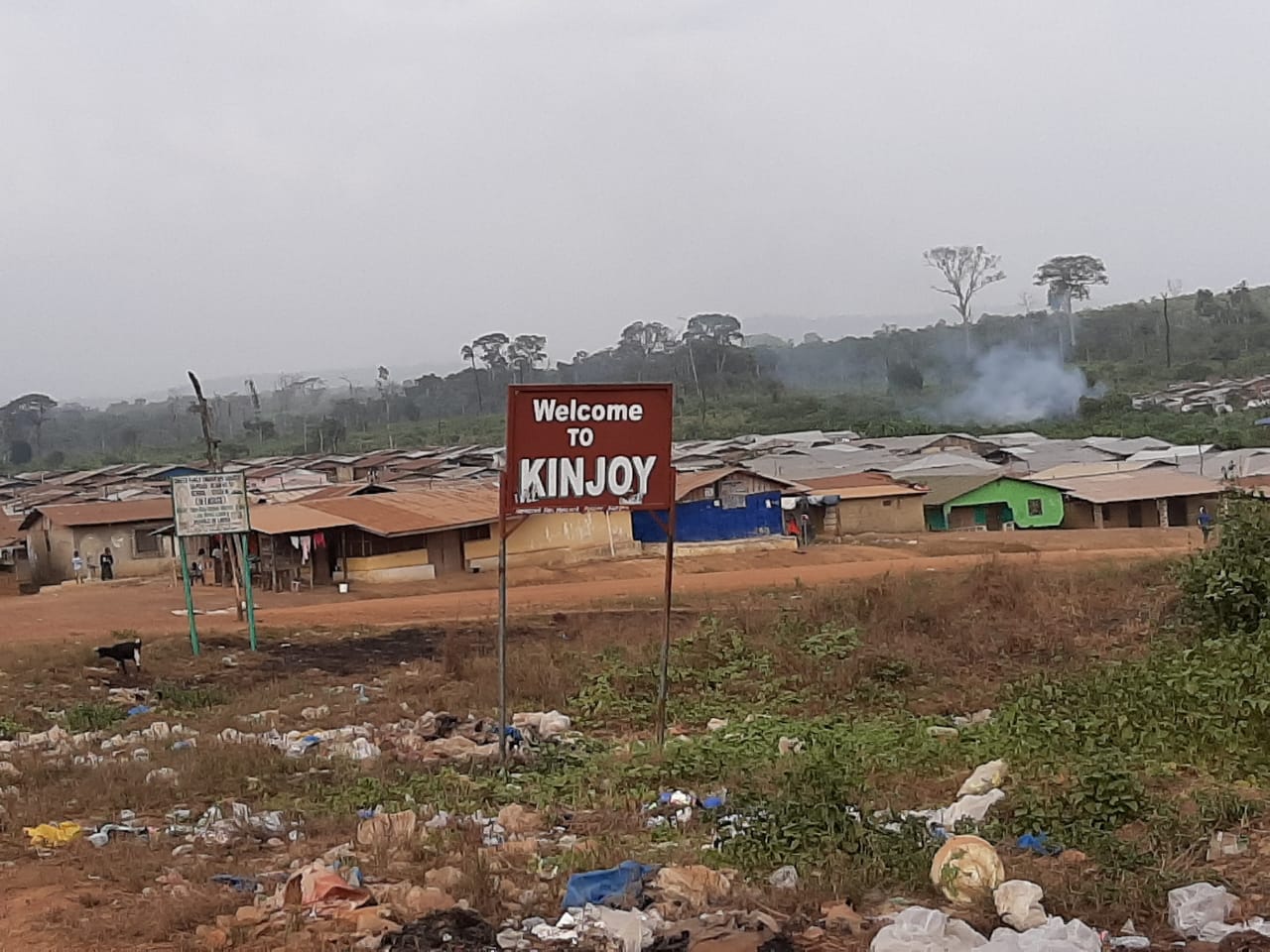 Kinjor, Grand Cape Mount County – Residents of Kinjor Town in Gola Konneh District are worried about the economic Implications they will endure, following the confirmation of a COVID-19 case in the area.
---
Report By: Saah Hudson, LMD Responsible Health Reporting Fellow
---
The town, which is home to hundreds of workers of the Bea Mountain Mining Company, is known in the county for its booming economic activities – but as the company enforces a new lockdown, residents are worried that commercial activities will be gravely affected.
The lockdown started on June 18, when an officer of the Emergency Response Unit of the Liberia National Police assigned at the Depot in Kinjor was tested positive for COVID-19.
The County Health Team suggested that the police depot be quarantined, including all officers at the depot. Since then, residents have been gripped with worry.
Fourteen ERU officers who took assignment in Kinjor Police Depot in Kinjor Town and came into contact with the officer who tested positive for COVID-19 have all tested negative for the virus, according to the county health team. The lone positive patient is currently in isolation, and is being care for by health workers.
Meanwhile, the mining company has also tightened restrictions by limiting the number of employees that are allowed to work on-site, while the movements and interactions of its employees are monitored as part of its social distancing protocols.
Residents of the community said that, in addition to the fear that the virus could spread, they are also concerned about the confirmed case and the impact that the new measures taken by the company will have on their livelihood.
A businesswoman, Bendu Kiawien, has been edgy about the lockdown ever since the announcement of the first case in the county.
"Since last week, when we heard that coronavirus was in Kinjor Town, it created fear amongst all of us and especially we that are doing business," she said.
"When we used to bring goods from Monrovia, it never used to take even two days, then everything finished, even when you bring sell-pay [goods-for-credit].  But for now, to even see plenty of people outside, it is [very rare]."
Ms. Kiawien said many residents of the town have become very careful and are practicing social distancing, causing them to spend most of the day indoors.
"And since the Government announced that by 6 pm, everyone should be home – even though it is hard to do, but we have to abide by Government mandate. So it is difficult for people to buy these days," she added.
Jeneba Massaley, another marketer who sells dried fish in the town, said she is unable to sell half of the quantity of fish she sold daily before the first case was confirmed.
"The way we used to bring our dried fish and bunnies from Robertsport to Kinjor and even when we bring big baskets, it took two or three days, then everything finished," she explains.
"But since the lockdown, our dried fish can take more than one week or sometimes almost two weeks [to be sold]".
She added: "For me, I have to sell before my three children can eat, and their father is not working. I have to sell and also pay our rent, but business is very hard these few days because of this coronavirus."
Amadu Jalloh is a shopkeeper in Kinjor. He too is also worried about the impact of the situation on his business.
"This lockdown is making business to be very hard on me because before I used to have a lot of customers to buy from me, and his area used to be really packed. But now even to get more than 10 persons to buy, it can't be an easy thing," Jalloh lamented.
Meanwhile, Askia Mohammad Kromah, Supervisor of Gola Konneh Mining Company, said the current situation is having a tow on all sectors of the county.
"We can't go about doing our normal businesses because of the lockdown, but we anticipate that this lockdown ends soon so we all can do our normal activities and also take into consideration all health-related precautions instructed by health authority," he said.
Dr. Netty Joe, the County Health Officer, says the response team has increased public awareness about the prevention of COVID-19 as the depot remains quarantined.
She said radio messages have been produced in simple Liberian English and the three major local languages of the county – Vai, Mende and Gola.

The claim is rigorous and the content is demonstrably true.
The statement is correct, although it needs clarification additional information or context.
Evidence publicly available neither proves nor disproves the claim. More research is needed.
The statement contains correct data, but ignores very important elements or is mixed with incorrect data giving a different, inaccurate or false impression.
The claim is inaccurate according to the best evidence publicly available at this time.
Upon further investigation of the claim, a different conclusion was determined leading to the removal of the initial determination.
A rude, disrespectful, or unreasonable comment that is somewhat likely to make you leave a discussion or give up on sharing your perspective. Based on algorithmic detection of issues around toxicity, obscenity, threats, insults, and hate speech;