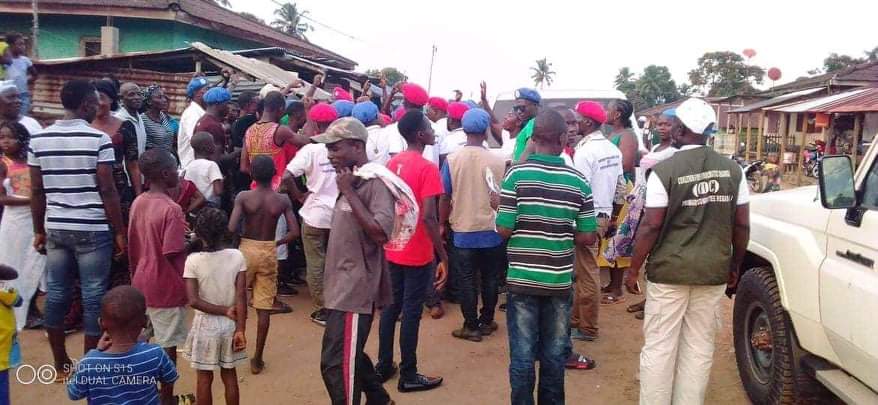 Harper, Maryland County – Residents of Maryland County have expressed fears that there might be an increase in the number of confirmed COVID-19 cases, due to political rallies and campaign activities leading up to the Special Senatorial elections, slated for December 8.
---
Report By: Bryan Dioh, LMD Responsible Health Reporting Fellow
---
The residents claimed that the failure of the National Election Commission to put into place health protocols for political parties and political events will cause the virus to spread. There are already existing concerns that the county health team has limited ability to track suspected cases – a situation compounded by increasing denial in communities.
Thomas Harris, a teacher at the JT Darrell High school, is aware that the possibility of the virus spreading is high when people converge at these political rallies. Harris is even hesitant to participate in any political activity himself, including voting in the upcoming election.
"I might not vote in this senatorial election, and the reason is just simple – because the way President Weah declared that there's no more state of emergency, people will leave from Monrovia and other places to come and vote. Not knowing if those people have the virus or not, we will interact with them, and contract the virus too," said Harris.
"In fact, if we even check Maryland [County] we will have many persons carrying the virus, because if you listen to our big doctor, Methodius George, he said up to now they do not know the source of the virus [here in the county] – and that is what will make me sit home and avoid trouble of getting the virus."
---
---
While Harris is worried about becoming infected with the new coronavirus, Lucy Jappah Momo, chair of the Maryland County-based civil society organization, suggests that the upcoming elections should be postponed until the country is declared COVID-19 free.
She is worried that the elections will cause flagrant violation of all the preventive measures, thereby causing an increase in the infection rate.
"I am 100% sure that this country is not safe to have elections because of the coronavirus that we are fighting every day," Momo said.
Jasper Moore, a motorcyclist based in Pleabo City, claims political rallies have a negative impact on efforts against stopping the spread of COVID-19 in the county.
"This whole thing about packing people together in the name of politics is wrong, especially during this coronavirus time," said Moore, who added that he often sees people jammed together in cars, heading to political rallies in different places.
"They don't know who among them is carrying the virus. So, as for me I believe after this whole politics thing that our health, people will start to treat [will have to deal with more cases] coronavirus again."
Panabra Hodge, another motorcyclist living in Maryland County, shares Moore's concerns. He suggests that there should be "a proper way" to host rallies amid the COVID-19 pandemic.
"At least when our politicians give the people who attend their programs nose mask then it will be ok, but see right now nobody is talking about it. Even our police, who supposed to force the people to wear nose mask, are also mostly seen in political programs acting like they don't know that this sickness is serious or like it is not in Liberia again," Hodge said.
"We should be careful how we do things in this country, because when plenty people have the virus our government will turn to them and everything in this country will go back again [all the gains made will be lost]".
For her part, Susannah Williams, a local marketer in Harper, is similarly worried that if nothing is done to ensure the enforcement of wearing face masks during rallies, there will be an increase in the number of confirmed cases of COVID-19.
Explains Williams: "As for me, I am tired talking about this virus thing because over and over we are just talking and no one is hearing us – only maybe because we are far off or we are just common market people. You know how many people will be coming from different counties to come here because of politics? Especially from Monrovia where almost every time we are hearing about new cases".
"So, I think our politicians need to think and help the government too. Let them talk to the people during the time they will gather them for political programs. Because those people that are coming from Monrovia will get in touch with our people here and our people will come to us too. I am really afraid. Let us keep safe because this virus is serious."
---
---
Maryland County has recorded 26 confirmed cases as of August 6, with two deaths and 15 recoveries. Still, there remains a mix of denial and fear amongst people of the county.
Meanwhile, some senatorial aspirants, who spoke to LocalVoicesLiberia said they are willing to follow all the COVID-19 health protocols as they campaign ahead of the special senatorial elections slated for December 8.
"I am obligated to any mandate from the National Elections Commission on the observation of health protocol, because they control our electoral process, and beside that I am always distributing nose mask during my political rallies. That, for me, I think can help to stop the spread of the virus," said Eric Giko, an aspirant in the pending elections.
Another senatorial aspirant, incumbent Senator Dan Morias, said the election commission must ensure politicians and their supporters follow the preventive measures.
"I am willing to follow the Ministry of Health's protocol and I think the National Elections Commission should do us well by making us mandatorily wear nose mask, and that we keep observing social distancing even prior to the election's set date," Senator Morias said.
"Because all of us, who are running around here in the name of elections, are all exposed to the virus. But if NEC sends people to monitor us during our rallies and ensure we wear nose mask and observe social distancing, we have a better chance of not having a high increase in the cases."
For her part, Honora Saydee – who serves as Maryland County Elections Magistrate – said the Commission is working to regulate political rallies to avert the spread of the virus.
She said NEC is meeting with the Ministry of Health aimed at ensuring that all health protocols are observed during the elections by electoral staff and candidates participating in the elections, as well as by voters.
Yet still, out in the streets, it is obvious that health protocols are notably being ignored, as political parties hold primaries in Maryland County ahead of the December 8 special senatorial elections. Amongst the violators are government officials and others who deny the existence of COVID-19 in the county.
A political rally recently held in Pleebo Sodoken District by the ruling Coalition for Democratic Change (CDC) saw hundreds of people gathered in violation of the health protocol. Many of them were not observing the social distancing or wearing nose masks in the public place – which are major preventive measures that can help curb the spread of COVID-19.

The claim is rigorous and the content is demonstrably true.
The statement is correct, although it needs clarification additional information or context.
Evidence publicly available neither proves nor disproves the claim. More research is needed.
The statement contains correct data, but ignores very important elements or is mixed with incorrect data giving a different, inaccurate or false impression.
The claim is inaccurate according to the best evidence publicly available at this time.
Upon further investigation of the claim, a different conclusion was determined leading to the removal of the initial determination.
A rude, disrespectful, or unreasonable comment that is somewhat likely to make you leave a discussion or give up on sharing your perspective. Based on algorithmic detection of issues around toxicity, obscenity, threats, insults, and hate speech;