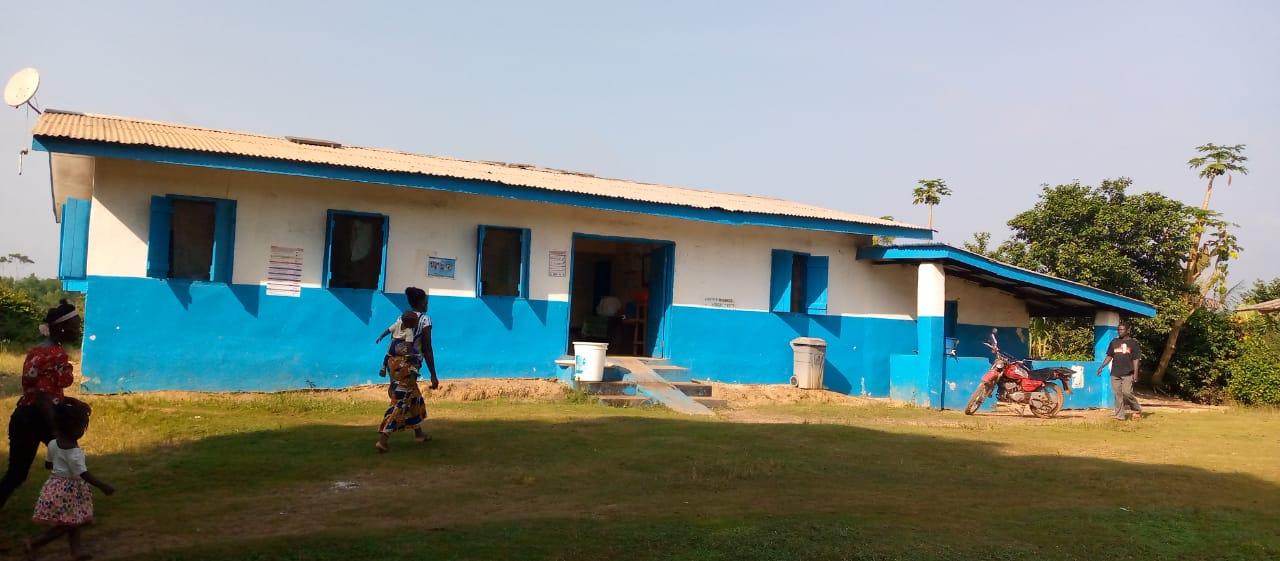 Yomo Town, Bomi County — After several pleas from community members, Bomi County Health Team has finally re-opened the doors of Yomo Town clinic to resume provision of basic healthcare services to residents of the area.
The new Officer in Charge (OIC) of the clinic, Ms. Komassa Sorsor said, "the people have been crying for this clinic to reopen doing so in the midst of the slowdown of COVID-19 pandemic restrictions is a great move."
"As a result, I was sent here replacing my colleague who was affected by the virus while working here.  Because he is now a survivor, so they changed his area of assignment," said Ms. Sorsor after the health facility was reopened on November 28, 2020.
In order to enhance services at the clinic, healthcare providers at the clinic received several trainings to ensure strict adherence to the  COVID-19 prevention and control mechanism.
"Everything we are doing here now, we are keeping safety at the top of our minds," Sorsor explains. "[that's] safety for patients, their attendants or helpers who are coming in, and for our staff."
Traditionally, patients walk in for check-up instead of taking appointments, but the OIC said patients will be screened before they can seek treatment.
"We are now encouraged to address this and ensure all COVID-19 health protocols are applied by not just the clinicians but clients as well," said the new OIC, who disclosed that the clinic is receiving regular drug supplies from the government.
"We are getting drugs every three months. That alone is encouraging people to keep attending this facility; this clinic is not actually stigmatized because patients are coming here every day."
It can be recalled that the Yomo Town clinic, which serves 16 catchment communities with a population of over 1,000 residents, was temporarily closed on June 30, 2020 after the then OIC contracted COVID-19.
The OIC had "unknowingly treated a COVID-19 patient". Later, two other health workers were tested positive for COVID-19. The three health workers would later recover, be discharged and reunited with their families on July 28, 2020.  But the clinic remained closed as misinformation by locals that the facility was contaminated with the new coronavirus spread.
Since the outbreak of the coronavirus in Liberia, Bomi County has reported 23 confirmed cases as of December 17, 2020. Currently, Liberia has 1,779 total COVID-`9 confirmed cases. Out of this number, there are 290 active cases with 83 deaths reported so far as of December 17, 2020.
As of December 18, 2020, 1,406 people have recovered from the coronavirus in Liberia, according to the National Public Health Institute of Liberia as follow-up on 184 contacts continues.
Residents Celebrates Reopening
---
---
When the hospital was reopened in late November, residents celebrated as some said that they would not to have to travel several miles to seek medical services.
"This is what we have been asking them to do, to reopen this clinic because of the many complaints we received from our people about the difficulties they faced in getting healthcare from outside of their own clinic," said Chief George Kerkula of Yomo Town couple of days after the facility was reopened. "Delay is not your denial, at long last ours is now opened; so, I am calling on my people to take advantage of this clinic like before."
"Because of this clinic that is now opened, I am here today with my three months old child," added Stephen Blama, a resident of the town.
Princess Brown, a mother of three children and a resident of Sawmill community – one of the clinic's catchment communities – said community members are regaining confidence in the facility despite previous rumor of the facility being contaminated with COVID-19.
"Since this clinic reopened, I can see people coming here, so myself will come here with my child for treatment; I am not afraid about coronavirus business," she said.
While at the health facility on December 20 to seek health services, Mama Jallah and Massa Larma told a LocalVoicesLiberia reporter that they were relief to see the clinic doors opened.
For his part, the town Chief of Banana Compound, Boby Togai, thanked the county health team for "listening to our cry" and reopen the clinic while the General Town Chief, Varney Bai, added that the move means "our government is somehow listening to us through you people the journalists".
"To reopen this clinic after our many cries because of this coronavirus, that means that they held our cries and we happy for that," Chief Bai said. 

The claim is rigorous and the content is demonstrably true.
The statement is correct, although it needs clarification additional information or context.
Evidence publicly available neither proves nor disproves the claim. More research is needed.
The statement contains correct data, but ignores very important elements or is mixed with incorrect data giving a different, inaccurate or false impression.
The claim is inaccurate according to the best evidence publicly available at this time.
Upon further investigation of the claim, a different conclusion was determined leading to the removal of the initial determination.
A rude, disrespectful, or unreasonable comment that is somewhat likely to make you leave a discussion or give up on sharing your perspective. Based on algorithmic detection of issues around toxicity, obscenity, threats, insults, and hate speech;