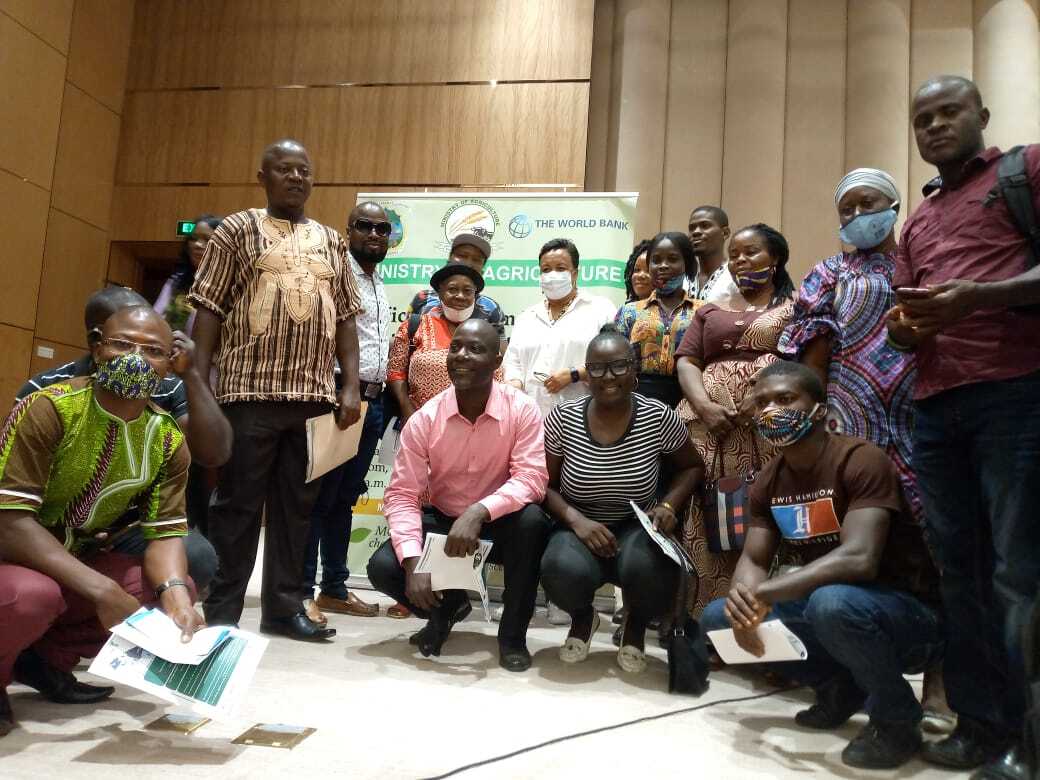 Congo Town — In an effort to enhance the capacity of small and medium-sized enterprises at various value chains, the small holder Agriculture Transformation and Agribusiness Revitalization project has handover Stimulus Grants to Agri-enterprises.
The project, which  is funded by World Bank and is being supervised by the Ministry of Agriculture was launched in June 2020, seeks to minimize the economic impact of the coronavirus pandemic on small and medium-sized businesses by ensuring food security, nutrition, and livelihood activities. The grant to the SMEs is worth over US$295,000 with 63 SMEs expected to benefit.
Grants are given to farmers, producers, and processors to help increase the capacity of these businesses to engage in agribusiness market linkages and procurement opportunities in agriculture supply chains for SMEs in rice, gardening, cassava and oil palm production to create growth and allow Liberia recover from the economic losses caused by the global pandemic. It is expected that this growth will result in increased sales which will translate into job creation.
Speaking at the official program marking the handover of the stimulus grants to SMEs on January 23, 2021, Minister of Agriculture, Madame Jeanine Milly Cooper said that the program is "designed to address not only small holder farmers and the issues and challenges they're being faced with but to commercialize agriculture".
"We don't want to remain in subsistence farming forever; we want to transform so that all of our farmers can become producers so that we can develop our economy," said Minister Cooper, adding that it is the first project devoted to linking smallholder farmers and what they produce along the value chain.
She continue: "When Covid-19 hit, we realized that it would be a very strong hit on the agriculture sector because Liberia is a country very heavily dependent on imports for food and everything, and all the other countries were closing down their ports, turning all of their production towards themselves, but Liberians are resilient people and that is why we designed what we call  the Covid-19 Response plan and presented it to make sure our agriculture would have a boost that it needs to be able to step up to the plate and produce the food and all other things that we need to keep our country going."
---
---
Despite perceptions that the coronavirus emergency has subsided in Liberia, Minister Cooper disagrees, adding that the MoA wants to ensure that its interventions boost the sector.
Meanwhile, Mr.Samuel Tweah, Minister of Finance and Development Planning, has urged SMEs to "attach values" to the grants given them.
"Agriculture is where we want to go; we want a stable agro environment," Minister Tweah said. "Commercial banks are sitting on vault cash and they're turning their blind eyes to you because they see risks and not opportunities. This money is for you to invest, be productive and not waste."
At the same time, producers of vegetables and honey have been encouraged to use the funds to add value to their products by improving packaging as some of the grant recipients also assured that the fund will help them augment their production capacity.
"Packaging is very important in businesses so we'll get to label our products with some of the funds," said Lucy Bono of Urban initiative for Sustainable Livelihood — one of the grant recipients. "We will also get bees suit because it's like going to war without arms when processing the honey and we'll train more farmers to extend our product."
Also, Verity Neufville-Sonkarly of Evergreen Natural Juices outlined some challenges her business faces including "getting materials for production in Liberia". She added that materials are either imported from Guinea or Ivory coast.
"The grant will help us establish a new line of business — tea. And will help us give out jobs to people," she aded.
For her part, Nelvin Samukai, a vegetable seller who goes around selling in a wheel barrow, said she will use the grant to purchase a stall to expand her vegetable and fruits business.

The claim is rigorous and the content is demonstrably true.
The statement is correct, although it needs clarification additional information or context.
Evidence publicly available neither proves nor disproves the claim. More research is needed.
The statement contains correct data, but ignores very important elements or is mixed with incorrect data giving a different, inaccurate or false impression.
The claim is inaccurate according to the best evidence publicly available at this time.
Upon further investigation of the claim, a different conclusion was determined leading to the removal of the initial determination.
A rude, disrespectful, or unreasonable comment that is somewhat likely to make you leave a discussion or give up on sharing your perspective. Based on algorithmic detection of issues around toxicity, obscenity, threats, insults, and hate speech;