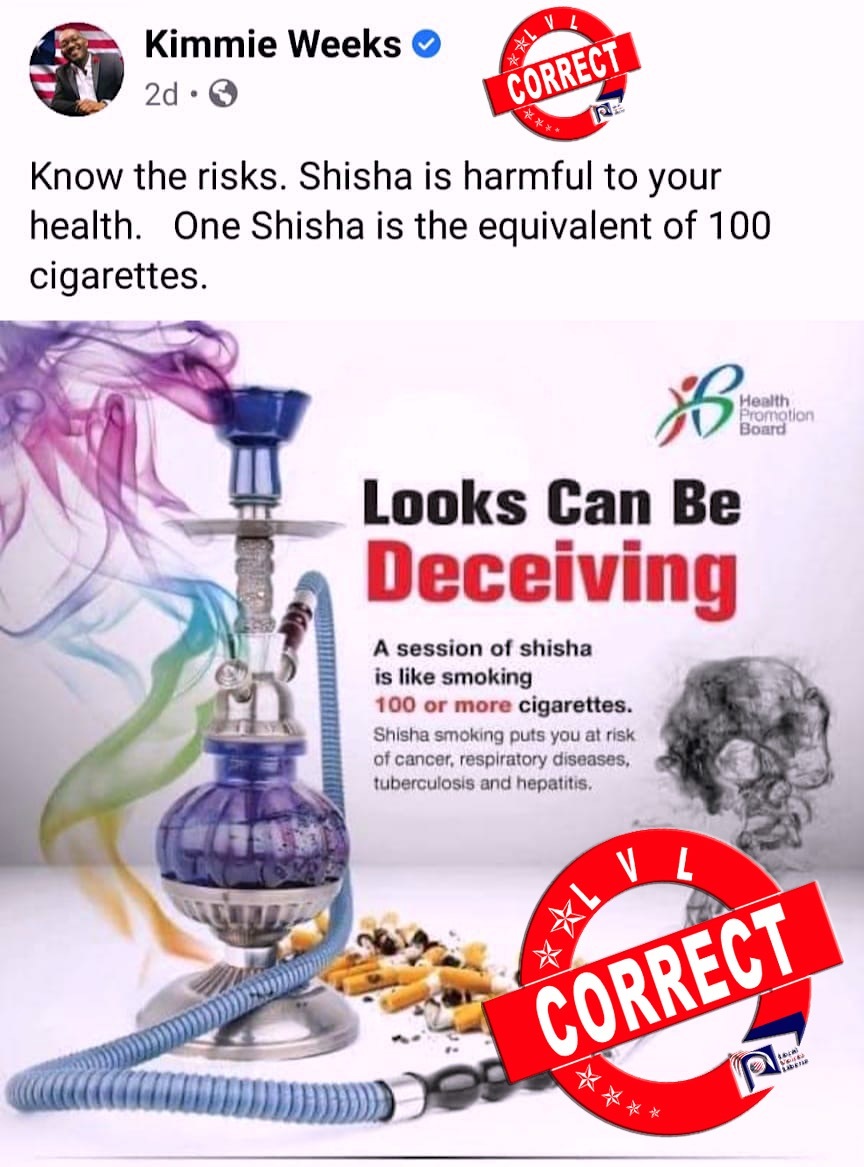 Monrovia — A post published on a Facebook page operated by renowned Liberian philanthropist and politician, Dr. Kimmie Weeks recently claimed that "one session of Shisha is equivalent to 100 or more cigarettes".
---
Report By: Arthur Kowah, Local Voices Liberia Fact Checker
---
The page, which has 90,568 followers, specifically posted a banner that reads: "Know the risks. Shisha is harmful to your health. One Shisha is the equivalent to 100 cigarettes".
The post received tons of comments and was even shared to several Facebook groups. So, LocalVoicesLiberia opted to fact check the claim.
What is Shisha?
Famously known as Shishas in Liberia, Hookah is water pipe used to smoke specially made tobacco that comes in different flavors, such as apple, mint, cherry, chocolate, coconut, licorice, cappuccino, and watermelon. They usually work by passing charcoal-heated air through the tobacco mixture and ultimately through a water-filled chamber. A user then inhales the smoke through a tube and mouthpiece.
A typical modern hookah has a head (with holes in the bottom), a metal body, a water bowl, and a flexible hose with a mouthpiece. Hookah smoking is typically done in groups, with the same mouthpiece passed from person to person.
Is Hookah Harmful?
Although many users think it is less harmful, hookah smoking has many of the same health risks as cigarette smoking. According to the American Lung Association, the leading organization working to save lives by improving lung health and preventing lung disease, at least 82 toxic chemicals and carcinogens have been identified in hookah smoke.
Although the smoke passes through water, this does not eliminate the hazardous, addictive chemicals released from the tobacco. The combustion of charcoal used to heat hookah tobacco may pose additional health risks, since this combustion process produces dangerous substances such as carbon monoxide, metals, and other chemicals.
According to WebMD, an American corporation known primarily as an online publisher of news and information pertaining to human health and well-being, Hookah sessions are typically around an hour in length, which is an estimated 200-puffs per session. The article states that Hookah users would consume the equivalent of about 100 cigarettes from one of these sessions.
The report also warns that "a single session of smoking a water pipe [Hookah] might be equivalent to smoking two cigarettes for a non-daily hookah user, or 10 cigarettes for a daily water pipe smoker."
What the WHO Says
A World Health Organization study has also suggested that a one-hour session of smoking shisha is the equivalent of smoking as much as 100 cigarettes or more.
Additionally, the US Centers for Disease Control and Prevention, states that the amount of smoke inhaled during a typical hookah session is about 90,000 milliliters compared with 500–600 ml inhaled when smoking a cigarette and that people who smoke hookah may be at risk for some of the same diseases as cigarette smokers which include Oral cancer, Stomach Cancer, Cancer of the esophagus, reduced lung function and decreased fertility.
The report also warns that "hookah smoking is not a safe alternative to smoking cigarettes. People who use tobacco should quit all tobacco products to reduce health risks".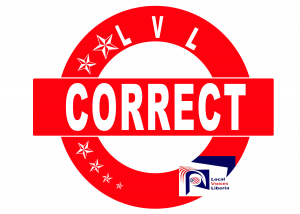 Conclusion
Based on the facts gathered and reviewed through our research, the claim that a session of Shisha is equivalent to smoking about 100 cigarettes as made by a Facebook page attributed to popular Liberian philanthropist and politician is correct.
---
Claim
Verdict

 

"Know the risks. Shisha is harmful to your health. One Shisha is the equivalent to 100 cigarettes".

 

 

 

Correct 
---
You may contact us to fact check any claim or information relative to Liberia. Contact us on:
Factcheck.localvoicesliberia@gmail.com or  WhatsApp: +231880986778
---

---

The claim is rigorous and the content is demonstrably true.
The statement is correct, although it needs clarification additional information or context.
Evidence publicly available neither proves nor disproves the claim. More research is needed.
The statement contains correct data, but ignores very important elements or is mixed with incorrect data giving a different, inaccurate or false impression.
The claim is inaccurate according to the best evidence publicly available at this time.
Upon further investigation of the claim, a different conclusion was determined leading to the removal of the initial determination.
A rude, disrespectful, or unreasonable comment that is somewhat likely to make you leave a discussion or give up on sharing your perspective. Based on algorithmic detection of issues around toxicity, obscenity, threats, insults, and hate speech;