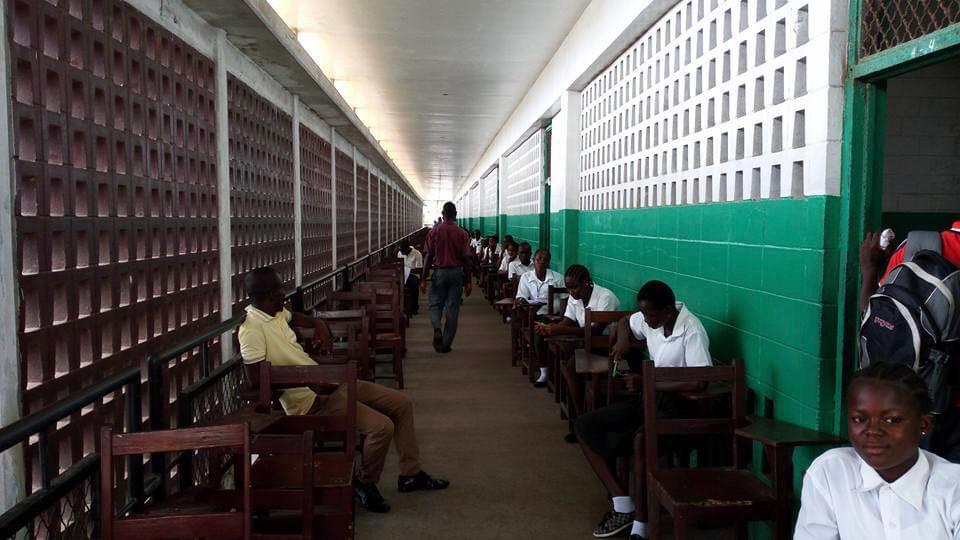 Monrovia – Fourteen-year-old Mohammed K. Bah is a resident of Monrovia's biggest slum community – West Point. He travels every day to Newport Street in central Monrovia where he sits in a class of 46 students, who are mostly vaccinated against Covid.
---
Report By: Aria Deemie | LVL Health Reporter
---
Mohammed got the vaccine when he learned that the risk of contracting Covid-19 is extremely high when an unvaccinated person continues to mingle with other unvaccinated people.
"I took the vaccine because I want to protect myself against COVID-19," Bah said. "Now, we're about 46 students in class and I didn't want to contract the virus".
---
---
Mohammed and the rest of his classmates are vaccinated. After getting consent from their parents, they got the jab as apart of a vaccination campaign dubbed the school based vaccine. Kemah Selmavua, 16, is one of Bah's 45 classmates.
"We don't know who we're talking with on campus," she said. "If someone has the virus and sneezes on me, I might get it, so I took the vaccine to prevent me from getting sick".
"I don't want to be affected by the virus so because I care about my friends around me, I took the vaccine so I cannot affect anyone if incase I come in contact with an affected person," added 17-year-old 9th grader Kelvin Sesay.
Newport Junior High School has over 800 students. It is one of the largest public junior high schools in central Monrovia area with students coming from several communities.
Until February of 2022, there was no vaccine available in the country to protect children against Covid-19. The Pfizer vaccine, which is recommended by the Center for Disease control and endorsed by the WHO for children, was launched on the campus of the Newport Junior High School on February 15, 2022, in collaboration with the Ministry of Health in collaboration with the CDC and WHO.
Pfizer-BioNTech COVID-19 vaccine, now called Comirnaty, is recommended for people aged 12 to 17. This vaccine involves three shots to be fully vaccinated. The first two are given three to eight weeks apart and the third shot, which is a booster, is given at least two months after the second dose.
---
---
According to Mr. J. Luke Garlo Sr., Principal of Newport Junior High, approximately 80% (640 students) of his students are now vaccinated. He thinks it's important that all the students get jab.
"The vaccines enable them to come to school healthy and well and it gives us a healthy school environment in times like these when the virus hasn't left our country completely," said Mr. Garlo. "That's why even all of our staffers are as well vaccinated".
He lauds the parents for supporting the vaccination campaign by consenting for their children or wards to take the vaccine.
Explains Mr. Garlo: "I think they understood that it was necessary because, if there's an outbreak the children will be prevented from coming to school, and once they're not coming to school it will delay their time in school, even moving around will be a difficult thing for the kids and other social related things they will want to do, if the government decides to quarantine everyone for their own safety in case of an outbreak".
Meanwhile, there has been misinformation about the vaccine despite the significant progress. Some people claim that the vaccine may cause woman to be barren while others say it shortens the life of a person who takes it. The WHO has consistently refuted this disinformation.
Despite efforts to debunk fake information about the vaccine, some people have been distracted by the disinformation campaign.
Mariama B. Sesay, a 16-year-old 9th grader, recalls how disinformation about the vaccine almost dissuaded her from getting it.
"I was told by people that if I take the vaccine, I'll get sick or the sickness that's in me that hasn't shown up yet will increase. When I informed my ma that the vaccine team was on campus, she told me to take it, the vaccine wasn't bad. She signed the form and I agreed, stood in the line, and took it," Mariama explains.
"I didn't feel much pain the same day, the next day when I woke up the only pain, I felt was my left arm- to lift it up was hard".
---
---
According to the WHO, as of November 6, 2022, a total of 4,264,190 vaccine doses have been administered in Liberia. A credible source working with WHO Liberia office, told Local Voices Liberia that 18,018 children – from 12 years and above – have been vaccinated with the Pfizer vaccine for children. The School based vaccine campaign aims to get the 320,580 doses of the Pfizer COVID-19 vaccine in the arms of children between the age of 12 and 17 years.
The pediatrician's vaccines for children under five years old is not yet in Liberia but it is expected to be in the country later this year, according to a WHO source.

The claim is rigorous and the content is demonstrably true.
The statement is correct, although it needs clarification additional information or context.
Evidence publicly available neither proves nor disproves the claim. More research is needed.
The statement contains correct data, but ignores very important elements or is mixed with incorrect data giving a different, inaccurate or false impression.
The claim is inaccurate according to the best evidence publicly available at this time.
Upon further investigation of the claim, a different conclusion was determined leading to the removal of the initial determination.
A rude, disrespectful, or unreasonable comment that is somewhat likely to make you leave a discussion or give up on sharing your perspective. Based on algorithmic detection of issues around toxicity, obscenity, threats, insults, and hate speech;