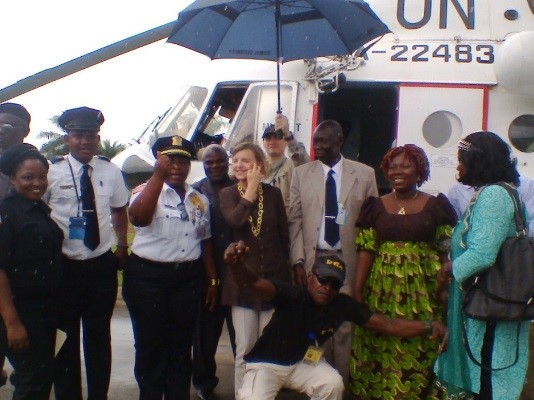 By: Eric Opa Doue
United Nations Special Representative of the Secretary General (SRSG), Karin Landgren, on Monday, May 18, 2015, paid a one working day visit to Rivercess County.
The SRSG during her visit, met with Civil Society Organizations, and commended them for their untiring and successful fight against the deadly Ebola virus. She disclosed that UNMIL is closing some of its offices in the counties, Including Rivercess County.
"Well done Liberians, in kicking Ebola out of your country, well done Rivercess, 189 days, you kicked it out long time ago" The SRSG noted.
"Rivercess did well, you had huge, huge challenges here with Ebola, but you beat them all" The SRSG applauded.
The UN Envoy said "Ebola shows some of the weaknesses, Ebola took everyone by surprise"
"Now that Ebola is gone, Rivercess has other challenges". The SRSG told the gathering.
She named bad road condition, security, vehicles, communication as some challenges confronting the county.
In her concluding statement, she noted that UNMIL is drawing down, but not leaving Liberia.
Meanwhile, the Community Health Department Director (CHDD) of Rivercess, Mr. Derrick Dougy has called on the UN for capacity building of health workers in the county.
"Health workers in Liberia have been expressing dissatisfaction; this is no secret, as for Rivercess, there are no housing facilities" Mr. Dougy lamented.
Mr. Dougy wants NUMIL to focus on the support to WHO to strengthen the health work force in the county.
"The only referral hospital in the county lacks those basis lifesaving equipment, even the health facilities along the road do not meet international standard" Dougy Explained.
The CHDD thanked the UN family for their support to the county health team in the fight against Ebola.
"It was UNMIL that came to our aid first when we needed help from the beginning of the crisis" Mr. Dougy said.
He made the call Monday, May 18, in Cestos City at the program marking a one day visit of the SRSG, Karin Landgren to Rivercess.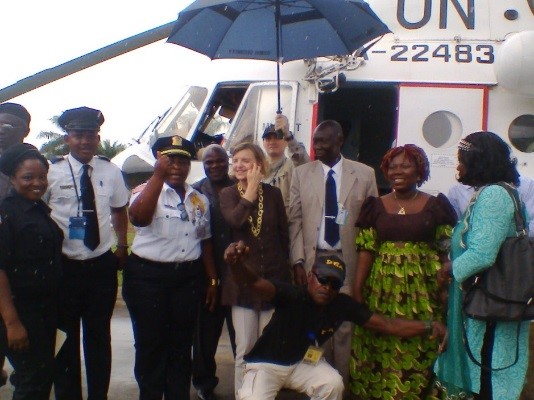 SRSG Karin Landgren and Rivercess local Authorities post fora photo after a day visit to Rivercess County on May 18, 2015