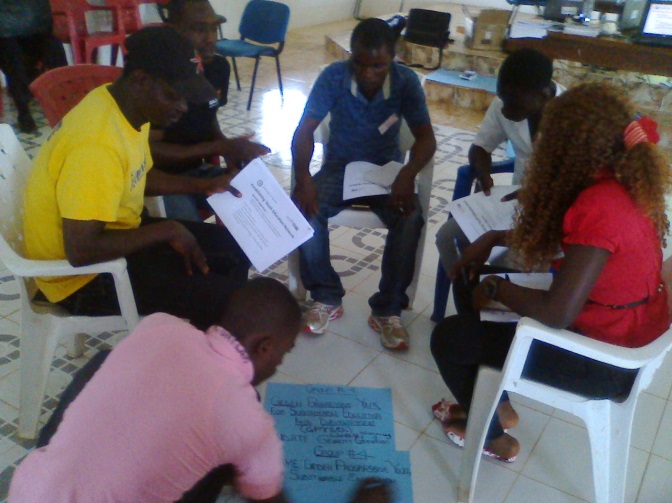 Written by: Moses Geply, Grand Gedeh County
As  2015/2016 academic school year gains momentum in Grand Gedeh County, IBIS Liberia Zwedru field office has concluded a weeklong tentative training for about 61 government schools teachers.
The training focused on early child reading and basic  mathematics  skills, and was held at the Zwedru multilateral High School campus in Zwedru, Grand Gedeh County.
The training also aimed at empowering grade School instructors from Putu, Konobo and Tchien districts with support from the Ministry of Education.
Speaking to Local Voices Liberia, The Team Leader for the teacher training Mr. Harrison Tiah said, the program is to buttress the effort of the Liberian government and for teachers to basically understand the new concept of teaching reading, phonics, mathematics among others in Grand Gedeh County.
According to Tiah the training will help the instructors identified numbers and the new ways numbers are thought to pupils while in School.
Mr. Tiah however disclosed that there will be a strong monitoring system to help supervise the day to day activities of teaches in their respective communities, in order that the knowledge acquired is used for its intended purpose.
At the same time, he called on Parents to devote time in their children Education, because he said they are the future leaders for this County.
Participants at the training commended the effort of Ministry Of Education with support from Ibis for the opportunities afforded them.
Challenges in Putu District
Meanwhile, Local Voices Liberia has learned that the lack of office space is one of the major challenges affecting education authorities in Putu Administrative District, Grand Gedeh County.
Theodor T. Worker, District Education Officer assigned in that part of the County, said since his appointment he had been running his office in a private house which he said does not allow him to work efficiently.
The Putu Administrative District Education Officer also disclosed that there is a big gap in the educational sector in Putu outlining the lack of qualified and adequate Teachers and sitting capacities for students among others.
Mr. Worker said if these challenges are addressed than, the coming academic year 2015/2016 will be a boost for pupils in the area.
He made these comments during the just ended early child reading and basic mathematics training organized by the Ministry of Education with support from IBIS Liberia.

The claim is rigorous and the content is demonstrably true.
The statement is correct, although it needs clarification additional information or context.
Evidence publicly available neither proves nor disproves the claim. More research is needed.
The statement contains correct data, but ignores very important elements or is mixed with incorrect data giving a different, inaccurate or false impression.
The claim is inaccurate according to the best evidence publicly available at this time.
Upon further investigation of the claim, a different conclusion was determined leading to the removal of the initial determination.
A rude, disrespectful, or unreasonable comment that is somewhat likely to make you leave a discussion or give up on sharing your perspective. Based on algorithmic detection of issues around toxicity, obscenity, threats, insults, and hate speech;