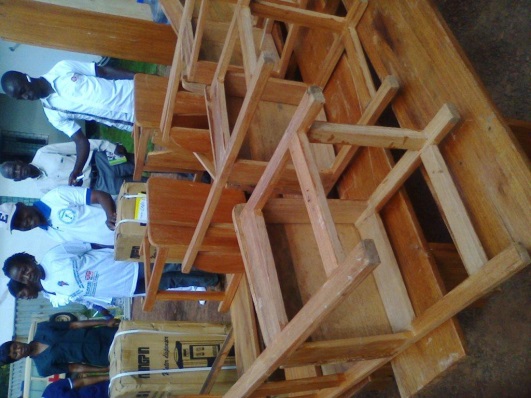 Written By: Moses Geply
Zwedru, Grand Gedeh County – Grand Gedeh County Health Team has received office equipment worth over US$1,000.00. Making the presentation on Tuesday October 12 2015, at the main compound of the County Health Team, Mr. A. Atilas Kai, Branch Coordinator for the Young Men Christian Association (YMCA) said the denotation is intended to buttress the effort of the Liberian government in meeting the needs of health Authorities in the country.
Items donated include 10 pieces of Bench, 6 pieces of wooding Chair, 2 pieces of water Dispenser, one Cover-shelf, one roll of floor mat among others.
According to him, the gesture is in line with the memorandum of understanding between YMCA and county health team few months ago which talked about supporting and providing stationaries and office equipment for the hospital.
Mr. kai however disclosed that there is a cordial working relationship between the two organizations which he described as "Very Good" adding that his office will do everything in supporting the only Referral County Health Center, Martha Tubman Memorial Hospital.
The YMCA branch Coordinator and Project Officer for Securing Healthy Life called on the Administration of the County Health Team to use the materials for the intended purpose.
He said the YMCA Zwedru branch is currently implementing three projects in Grand Gedeh County namely: Health, Agriculture and Security for about 10 thousand young people.
For her part, the County Health Service Administrator, Eugenia Hoteton lauded the effort of the YMCA for their timely intervention in meeting some of the needs of the County Health Team.
Madam Hoteton said materials received will not only help staff of the Hospital but patients who usually go to the hospital for treatment. She used the occasion to call on other humanitarian organization and individuals to follow the example of YMCA to help improve the Hospital adding the hospital belong to the people not the government.
In a related development the medical Director for Martha Tubman Memorial Hospital in Zwedru Dr. Jean K. Karly said the Hospital is working hard to help improve the Health system in the County and call on every citizen to take advantage of the only health facility in Grand Gedeh County.

The claim is rigorous and the content is demonstrably true.
The statement is correct, although it needs clarification additional information or context.
Evidence publicly available neither proves nor disproves the claim. More research is needed.
The statement contains correct data, but ignores very important elements or is mixed with incorrect data giving a different, inaccurate or false impression.
The claim is inaccurate according to the best evidence publicly available at this time.
Upon further investigation of the claim, a different conclusion was determined leading to the removal of the initial determination.
A rude, disrespectful, or unreasonable comment that is somewhat likely to make you leave a discussion or give up on sharing your perspective. Based on algorithmic detection of issues around toxicity, obscenity, threats, insults, and hate speech;