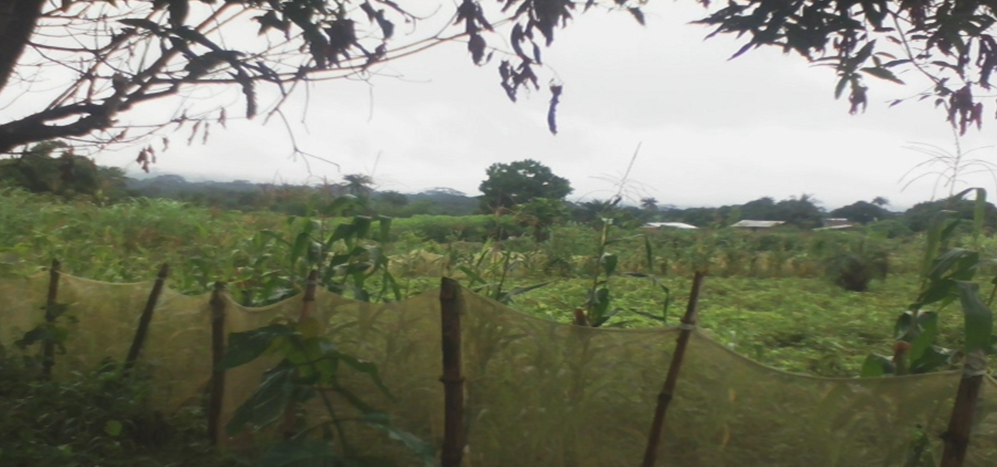 Gbarpolu County – The Registered Midwife (RM) and Acting Officer-in-Charge (OIC) of Totoquelleh Clinic in Gbarpolu County, Tenneh Manjoe says the misuse of treated Mosquito nets and poor hygiene practices are major causes of increased Malaria cases at rural clinics in the county.
Madam Menjoe says out of 731 cases screened and treated for June and July this year, 40.65% were confirmed Malaria cases.
"Of the clinic intake, 297 were diagnosed to be Malaria positive cases," she said. "For the under 5, from 0-5 years were 101, adult is 64 while from 6 to 14 years is 132confirmed malaria cases for the two months."
The increased of malaria cases according to the Acting OIC is due to the incorrect usage of mosquito nets and the poor sanitary condition being practice by community dwellers.
"The misused of treated Mosquito nets given to them (communities) to prevent malaria is a major problem," she stressed. "Can you imagine some of them using the mosquito nets to (for) fishing, cooking, bathing and also some used it to fence around their garden which is very-very bad."
A Community Leader also laments the misused of the mosquito net. "Yes, some people actually use net for fishing and we are on the look to punish anyone that we will catch using mosquito net badly in this community," warned Chief Mose W. Wallah.
And the OIC continues: "Some areas in the community are not clean, some of the places are really dirty during this rainy season and as the result the mosquito used those areas, especially the stagnant water as breeding grounds and multiplied on the daily basis and infects the very people living there".
To sensitize community dwellers and patients seeking health care at the clinic, the OIC mentioned that clinical staffs have focused on Malaria during their daily health talk at the clinic.
"Every morning we educate them on Malaria, looking at the causes of Malaria and how it can be prevented." She added that the health talk usually focused on how pregnant women and children under five can prevent malaria.
Additionally, she said they are working along with the community dwellers to carry out cleaning up exercises weekly. "By this way, I think we can help to reduce the mode of malaria transmission" she pointed out.
She also disclosed big-belly (pragnant) women going to the clinic are given mosquito net during their antenatal visit and after delivery at the clinic. "This is encouraging our big belly, and so for the two months we talking about we did 11 successful deliveries at this clinic," she said.
 Totoquelleh Clinic is located in Bopolu Health District, an area with over 2,700 people within six catchment communities. The clinic has six staff out of which two are professional health practitioners while the rest are support staff.
Community's Drug Shortage Concern
Responding to community allegations about the shortage of drug supplies at the clinic and the frequent prescription of drugs for patients to buy, the clinician argues that there are enough malaria drugs available at the clinic but admitted, there are also challenges in sourcing all the supplies at the clinic.
"It is true some time we give them paper to buy drug when we go out of supplies but now we have enough malaria drug. Drug supply is done every three months; currently we do not have Rapid Diagnostic Test (RDT) for malaria and antibiotic essential drugs."
Madam Menjoe revealed that the health facility has not recorded any maternal deaths for over two years, adding that they have carried out successful deliveries and transfer complicated cases to the referral hospital on time.
Constraints Still Loom; Community Collaborating
The constraints are enormous ranging from lack of transportation for regular community outreach, lack of bathroom for patients and lack of storage facility at the clinic, she said.
However, she emphasized the need for intervention: "We need support from other people to help us complete our warehouse, and also with motorbike for outreach."
She also extolled the community for their support toward health workers assigned at the clinic.
And Hawa Amara, a resident of Totoquelleh Town adds that the community is dedicated to working with the clinic. "We help the clinic do cleaning up some time and also they talk to us in the community about some sickness," she said. "The other day I went to the clinic they talk to us about malaria. They say malaria can spread because of dirty place and if you not sleeping under mosquito net".
"The staffs at the clinic continue to educate us about our community; some time they joined us to do community work," added the General Town Chief, Moses D. Wallah. "We have made a law for everyone to keep around their houses clean and that law is holding small, small."
Efforts Against Malaria
In 2015, Liberia successfully completed the distribution of Long Lasting Insecticide-treated mosquitoes nets (LLIN) universal coverage campaign throughout the country. Despite the Ebola crisis in 2014 and 2015, it was able to sustain its high coverage of malaria control interventions when each household got 3 mosquito nets.
This process was funded by Global Fund and implemented by the Liberian government and partners. As the result Liberia won the 2016 Malaria Alliance Awards for Excellence.  However, report of malaria cases from local clinics in the country presents different side of the story.
Malaria is the leading cause of morbidity and mortality in the country, according to the 2009 Liberia Malaria Indicator Survey (LMIS 2009). Malaria prevalence in children under five was 32%, down from 66% in 2005 (LMIS 2005), and the LMIS in 2011 showed further decline in malaria prevalence to 28%.
Report by: Henry Gboluma