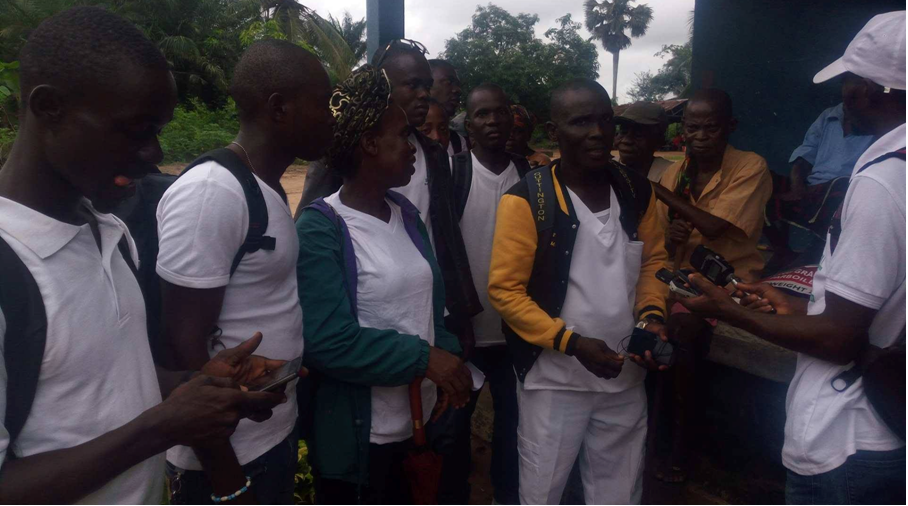 Buchanan, Grand Bassa County – Students studying Geriatric Nursing at the Grand Bassa Community College (GBCC) in Buchanan have donated several food items to old folks in the county as part of their study of the course.
Geriatric Nursing focuses on caring for elderly people experiencing health problems and should be given more medical care and attention.
Speaking during the presentation of the food items which included bags of rice, oil, salt and food seasoning to the old folks in Buchanan, a lecturer of the course at GBCC, Chebo S. Darpoh, emphasized the importance of caring for elderly people specifically within the nursing profession.
"Because of the fragile health of the older people, elderly individuals often need special care, particularly since a minor health-related issue can sometimes spin out of control quickly in the elderly," he said.
He said the human life expectancy has increased so the demand for geriatric nurses is expected to increase dramatically.
Mr. Darpoh explained that Geriatric nurses are trained to be able to perform traditional nursing duties, yet they also have special training that helps them better understand the special needs of many elderly people.
He said working as a geriatric nurse is often very gratifying and rewarding personally and it takes special types of people to work in the field, adding that the work can also be frustrating or disappointing at times as well.
"If you are looking to become a geriatric nurse, you must keep in mind that the aging process affects everyone differently," Mr. Darpoh advised.
At the end of every semester, the class at GBCC usually visits the old folk's home in Buchanan and donates some food items and help care for the old folks. Funds used to purchase the items are contributed by the class members.
Receiving the items, the old folks thanked the students for their gesture. One of them, Nyonway James, said "The little that the students have given them will never be forgotten" and they will always pray for the students' betterment.
Speaking in her native Bassa language, she said: "Students are catching hard-time to go to school, even for their transportation to get it in Liberia is hard, for students attending college to put small, small money together to help us we are happy."
Report by: Elton Wroinbee Tiah