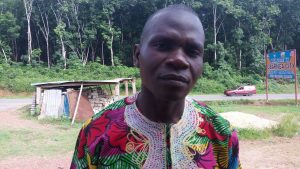 Suakoko, Bong County – The ailing condition of three-year-old Benetta Favor Jaimah's eyes is worrying her parents who have launched a public appeal to save her sight.
Benetta's mother and father, Somee K. Jaimah and Pastor James Jaimah Jr., are depressed about her situation, as they race against time to take her out of Liberia for operation.
At their Phebe residence, located couple of miles outside Gbarnga, the two struggled to explain little Benetta's condition during an interview with LocalVoicesLiberia.
As her parents contemplate speaking to a visiting reporter, she stood sobbing with a cool-aid in her hands. Her eyes appeared dark and teary.
Little Benntta is described by many in the community as a "smart and promising" kid who sight must be save.
"James, just talk to the journalist," the wife told her husband in a tone filled with distress.
"This child was born without any complications, but after three months, we saw her eyes just turned blue. From that time up to today, we have taken her from hospital to hospital in this country but to no avail," the father, who is also a pastor, explained.
He said Benetta's eyes began developing problems when she was just three months old.
Eight months ago an Indian medical doctor at J.F.K. Memorial Hospital in Monrovia diagnosed "pressure in the eyes" of little Benetta, he said.
The doctor then advised them to take the child to India for operation on her eyes and further cautioned that from the period of the diagnosis, the child's eyes would be damaged in a year's time if there are delays or nothing is done in time.
Pastor Jaimah, on behalf of the family, then made a public appeal to philanthropic organizations, the Government of Liberia, government officials and good-will individuals to help fund the trip to India to save their child's sight.
"For the cost of the treatment in India, the doctor told me that it is not much. But the main challenge we have is getting the plane tickets," he said.
He said it is regrettable that his family can't afford to shoulder the cost of redeeming the eyes of their little Benetta.
Report By: Moses Bailey
Editor's Note: The family is reachable through the following contacts: (+231)-886-817-724 / 886-898-663 / 0775-038-165.