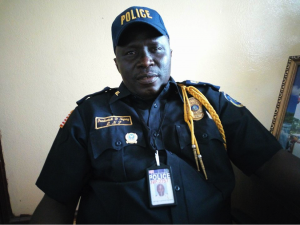 Panta District – Moses Porkpah, a man accused of allegedly killing his girlfriend in Zota District, Bong County has been arrested by a group of citizens after being on the run for more than six weeks.
Porkpah reportedly murdered Dorris Nyan, 29, on June 1, 2017, and fled to the bush, and had ever since eluded arrest by the police and the community.
But almost 10 weeks later, on August 19 locals of Gbarngasiaquelleh in Panta District arrested the suspected murderer when he was spotted purchasing some food items.
Fedrick Nepay, the county police superintendent, lauded the community for the "effective citizens policing" to apprehend a "threat to the security of the people".
Napay said suspect Porkpah has been transferred to Monrovia for detention and will be brought back to Bong to stand trial.
The Bong County police chief told a local radio station that the suspect was posing "security threats" to the people of Cow Farm and its environs.
While on the run two weeks after the incident, fugitive Porkpah also shoot two persons.
The two victims, Junior Andrews and Amos Nusiah, were among traditional hunters from surrounding towns and villages aiding police to arrest Porkpah.
One of the injured victims' leg was amputated at Phebe Hospital in Bong County, where he was rushed for medical treatment, while the other is currently in the Republic of Guinea undergoing traditional medical treatment, according to family members.
The cause of Porkpah's alleged action has not been established, however, there are two separate narratives by family sources and community dwellers respectively about what triggered his alleged action.
One account says the suspect's action was a result of a misunderstanding between he and his deceased girlfriend concerning her ex-relationship. Another asserts his action was because the deceased refused to give him sufficient food.
Report By Moses Bailey

The claim is rigorous and the content is demonstrably true.
The statement is correct, although it needs clarification additional information or context.
Evidence publicly available neither proves nor disproves the claim. More research is needed.
The statement contains correct data, but ignores very important elements or is mixed with incorrect data giving a different, inaccurate or false impression.
The claim is inaccurate according to the best evidence publicly available at this time.
Upon further investigation of the claim, a different conclusion was determined leading to the removal of the initial determination.
A rude, disrespectful, or unreasonable comment that is somewhat likely to make you leave a discussion or give up on sharing your perspective. Based on algorithmic detection of issues around toxicity, obscenity, threats, insults, and hate speech;