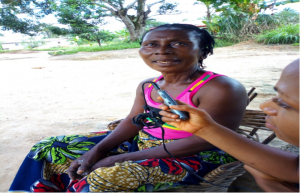 Zwedru, Nimba County – As The National Elections Commission (NEC) continues the civic voter education across the country, Liberians in Grand Gedeh County are expressing optimism about the electoral process.
On August 18, youth and women groups, members of political parties, the civil society, representatives of UNMIL, officials of the county administration and NEC paraded the streets of Zwedru as part of activities marking the official launch of the CVE campaign in the county.
Speaking during the program, Annie Suah Dennis, assistant election magistrate of Grand Gedeh, reminded the gathering that "Election is everybody's business," and she called on stakeholders in the electoral process to be fully involved in the entire process.
Arthur Dougee, the county senior elections magistrate, said the campaign shows that NEC is ready for the conduct of October 10 elections. Mr. Dougee said every individual Liberian has the responsibility to make the elections peaceful.
For his part, Peter Solo, the county superintendent, urged all supporters of various presidential and representative candidates to avoid tearing down campaign flyers and billboards in the county. He warned that violators would be dealt with according to the law.
At the same time, some residents of Zwedru City have been speaking about the electoral process.
Victoria Suhn: "This election that is coming, we don't want to fight; we want peace so all those that will vote should please do it in peace and no hala hala."
Bettie Gaine: "I am very happy about the way the people come to teach our people in Grand Gedeh County because some of our old people don't know how to carry on this voting business. In some cases, they can do their own thing that can be disqualified."
Victor Williams: "I pray that this election will be free and fair because of what the NEC is doing in the county by going around educating people on how to vote and how to keep violence away from this election."
Jones Collins: "You know this election business we talking about here, we want for it to be peaceful, we don't want any confusion, we want it to be free and fair."
Report By: Angeline Roberts

The claim is rigorous and the content is demonstrably true.
The statement is correct, although it needs clarification additional information or context.
Evidence publicly available neither proves nor disproves the claim. More research is needed.
The statement contains correct data, but ignores very important elements or is mixed with incorrect data giving a different, inaccurate or false impression.
The claim is inaccurate according to the best evidence publicly available at this time.
Upon further investigation of the claim, a different conclusion was determined leading to the removal of the initial determination.
A rude, disrespectful, or unreasonable comment that is somewhat likely to make you leave a discussion or give up on sharing your perspective. Based on algorithmic detection of issues around toxicity, obscenity, threats, insults, and hate speech;