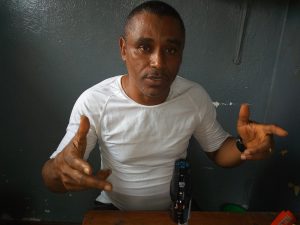 Buchanan, Grand Bassa County – The Liberia Drugs Enforcement Agency (LDEA) in Grand Bassa County has arrested a 37-year-old man identified as Moses Swag for illegal possession of a lethal weapon.
Major Joseph Taggidine, the LDEA county commander, told LocalVoicesLiberia that suspect Swag was arrested on September 3 in the St. John River District, while en route from Bong County.
When the officers apprehended him, he refused to be investigated, claiming that he had the firearm to protect himself in the community, said Major Taggidine.
He has, however, been turned over to the Liberian National Police for further investigation.
"Moses was in that district threatening people with the arm and claiming that he had it for self-defense," Taggidine said.
"It is criminal to have small arm without the approval of authorities in Liberia and we must report anyone committing such act."
"This upcoming election is very critical and we as citizens need to help the securities in hosting a peaceful election by reporting evildoers," he said, adding that every citizen needs to help in maintaining the peace.
" Let me tell you, citizens, no security officer will disclose who give them information but you the citizens have to keep informing us so that we can maintain the peace ", Taggidine said.
Meanwhile, Alvin Garjay, a resident of Buchanan, said the government should take the blame for the illegal possession of firearms.
"How did this man get the arm," Garjay asked. "This means that our country is not safe because anyone can just walk into this country with gun. If that man was going to do bad to anyone in this area then we were going to hold them responsible."
Report By: Elton Wrionbee Tiah

The claim is rigorous and the content is demonstrably true.
The statement is correct, although it needs clarification additional information or context.
Evidence publicly available neither proves nor disproves the claim. More research is needed.
The statement contains correct data, but ignores very important elements or is mixed with incorrect data giving a different, inaccurate or false impression.
The claim is inaccurate according to the best evidence publicly available at this time.
Upon further investigation of the claim, a different conclusion was determined leading to the removal of the initial determination.
A rude, disrespectful, or unreasonable comment that is somewhat likely to make you leave a discussion or give up on sharing your perspective. Based on algorithmic detection of issues around toxicity, obscenity, threats, insults, and hate speech;