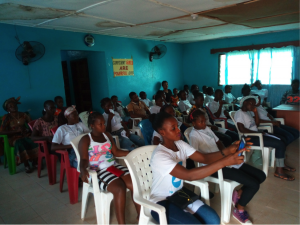 Gbarnga, Bong County – Linda Cammue, a female Liberian chemist, says young women and girls in Liberia must pursue their dreams with resilience regardless the "insurmountable" challenges.
Cammue said the "development and forward march" of Liberia greatly depend on women and their male counterparts.
"As young women, we must stay focused and be ambitious, and bear in mind that like men, we all have roles and responsibilities in our society which we must accomplish by preparing ourselves and work tirelessly for a better and brighter future," she said.
She was addressing teenagers recently in Gbarnga, Bong County at the launch and fund raising program for the Girls' Power Initiative, GPI.
Cammue holds a Bachelors of Science degree in Chemistry from Cuttington University in Liberia and a Master of Science in Chemical engineering from Swansea University in the United Kingdom.
The female chemist recalled the harshness of life while growing up in a refugee camp, and struggling to acquire secondary education.
"There were days when my fees weren't paid on time, and I had to be sent home for tuition fees," she told the audience. "There were also days, that I had to go to school without lunch or money in my pocket."
She continued: "I remember writing all my subjects in two notebooks; I remember selling around after school and sitting in front of a photo studio at night to study from their light."
She wants young females put time to studying their lessons and strive to "find inspiration and be an inspiration for others".
Earlier, the program's director of GPI, Naomi Myers, said the organization helps teenage girls reach their full potentials in acquiring education and livelihood skills.
Myers, a student of Cuttington University, told LocalVoicesLiberia that GPI sensitizes girls on the negative impacts of teenage pregnancy, early marriage, encourage and help them focus on their studies.
"I noticed that there are a lot of small girls getting pregnant in the communities, and I think this is not good for their future. This is why we put this group together to help them out," Myers said.
She is extending appeals to interested organizations and individuals in girls' empowerment to help support the program for the benefits of the girls.
Myers said the organization intends to introduce skills training component in its activities to help the girls acquire relevant skills for their livelihoods.
Meanwhile, parents of some of the girls that attended the program lauded the GPI's efforts.
The parents said the program is important for the professional development of their children.
Report By: Moses Bailey

The claim is rigorous and the content is demonstrably true.
The statement is correct, although it needs clarification additional information or context.
Evidence publicly available neither proves nor disproves the claim. More research is needed.
The statement contains correct data, but ignores very important elements or is mixed with incorrect data giving a different, inaccurate or false impression.
The claim is inaccurate according to the best evidence publicly available at this time.
Upon further investigation of the claim, a different conclusion was determined leading to the removal of the initial determination.
A rude, disrespectful, or unreasonable comment that is somewhat likely to make you leave a discussion or give up on sharing your perspective. Based on algorithmic detection of issues around toxicity, obscenity, threats, insults, and hate speech;