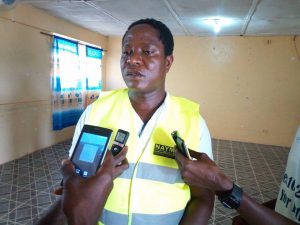 Zwedru, Grand Gedeh County – Civil society organisations partnering with National Youth Movement for Transparent Election (NAYMOTE) have embarked on voter education exercise in Grand Gedeh County following a one-day training-of-trainers workshop.
NAYMOTE on September 4 held the one-day training for youth groups and civil society actors at the local office of the National Elections Commission (NEC) in Zwedru. The training drilled participants through the processes of marking the ballot papers.
The move is intended to limit potential invalid votes at the October 10 polls, the organizer says.
According to officials of NAYMOTE and the local NEC office, participants were also urged to enlighten their peers on the impact of participating in next month's elections.
Grand Gedeh County senior election magistrate, Arthur C. Y. Duogee, said further awareness would be carried out for first-time voters and people with disabilities by those trained during the one day exercise.
"This election is Liberia's own, therefore, we are training these young people to go out and teach their peers the importance of participating in it. Voters also need to know the disadvantages associated with invalid voting," Duogee said.
He said the commission is working to scale up the participation of women, old folks (the elderly), and physically challenged people.
"If we do not give those people close attention on elections day, there is a possibility of having low turnout from theirend, and, in fact, the huge number of invalid votes," he said while calling on civic voter educators to observe the elections code of conduct.
NAYMOTE, a nongovernmental organization, is working in Liberia to strengthen and promote positive youth and community engagement in support of democratic governance and sustainable development in Liberia.
Lawrence Myers, NAYMOTE coordinator in the region, said the initiative also enhanced partnership with community-based organizations.
He named Orphans Vision Aid Liberia and the Initiative for Peace and Development in Grand Gedeh County as two of the "on-the-ground" partners.
As part of the partnership, Myers said these two organizations will disseminate violence-free election messages throughout September.
They will target 55 communities by sensitizing voters how to rightfully mark the ballot paper and the necessary steps a voter should follow on Elections Day.
"According to statistics from NEC there are many first-time voters in Grand Gedeh and the number of physically challenged individuals who have registered is also encouraging. So much information need to reach these people," Myers said.
"Our goal is to have a successful election where everybody who registered participates. So we are going all out to reach our people with these messages."
Raymond Collins, Orphans Vision Aid Liberia Director, applauded the partnership with NAYMOTE and said it is an opportunity for persons living with disabilities to form part of the sensitization campaign.
"I strongly believe that most of the invalid votes derived from us (people living with disabilities) because much attention was not given to us during previous elections in Liberia," he said.
Report By: Mose Geply

The claim is rigorous and the content is demonstrably true.
The statement is correct, although it needs clarification additional information or context.
Evidence publicly available neither proves nor disproves the claim. More research is needed.
The statement contains correct data, but ignores very important elements or is mixed with incorrect data giving a different, inaccurate or false impression.
The claim is inaccurate according to the best evidence publicly available at this time.
Upon further investigation of the claim, a different conclusion was determined leading to the removal of the initial determination.
A rude, disrespectful, or unreasonable comment that is somewhat likely to make you leave a discussion or give up on sharing your perspective. Based on algorithmic detection of issues around toxicity, obscenity, threats, insults, and hate speech;