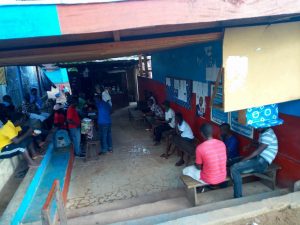 Buchanan, Grand Bassa – As the legal tussle between the Liberty Party and the National Elections Commission continuous, some members of an intellectual forum in Buchanan City are claiming that it is a "sign of danger" for the country.
Speaking to LocalVoicesLiberia at the All People, One People intellectual forum in the port city ahead of the Supreme Court ruling into the case on Monday, the intellects – mostly youth – said they are afraid a re-run of the election would be too costly for the government to foot and would signal fear for many Liberians.
They said Liberians must settle all of their problems and allow the election to go ahead in order to avoid future embarrassments.
"This country doesn't have enough money and they're here postponing the run-off election just to empty the country's covert," said George Crusoe, asserting that the more the election is delayed the more resources the country spends.
"We just came from several years of war and we don't want to go back to where we came from, postponing this one election is making me scare now."
"I am tired of this whole election business because parties carrying complain here and there and delaying this one election is embarrassing me too much," added Alfred Ben.
Ben said delay into the electoral process is not in the "interest of the country" if Liberians must maintain the peace they are enjoying.
"Let me tell you if this electoral process keeps delaying I am afraid that different thing will happen which I am not praying for," he said.
Jerry Zondoe, another regular discussant at the popular intellectual forum in the county, called on Liberians to avoid creating "problems for themselves".
He said while others are expressing disappointment about the way the first round of the election was held, their actions should not have caused delays.
"This is our home and no other home we have besides this Liberia," he said. "If this election keeps delaying I am afraid that we might not continue this peace we are enjoying."
Report By: Elton Wroinbee Tiah

The claim is rigorous and the content is demonstrably true.
The statement is correct, although it needs clarification additional information or context.
Evidence publicly available neither proves nor disproves the claim. More research is needed.
The statement contains correct data, but ignores very important elements or is mixed with incorrect data giving a different, inaccurate or false impression.
The claim is inaccurate according to the best evidence publicly available at this time.
Upon further investigation of the claim, a different conclusion was determined leading to the removal of the initial determination.
A rude, disrespectful, or unreasonable comment that is somewhat likely to make you leave a discussion or give up on sharing your perspective. Based on algorithmic detection of issues around toxicity, obscenity, threats, insults, and hate speech;