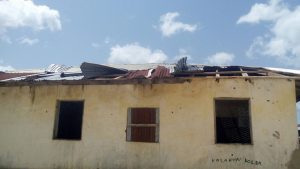 Lofa County – A violent storm that recently erupted in Kolba, the biggest city in Kolahun District, Lofa County has left behind a serious humanitarian situation affecting more five hundred residents of the community.
The storm disaster was triggered by torrential rainfall and thunder strikes that last several hours before a cease was realized.
At least 125 houses reportedly got damaged as a result of the storm incident with occupants forced to sleep in the open air after being made homeless. The storm occurred on October 20, 2017, but locals are still struggling to deal with the damage it left behind.
Public service delivery has also being hindered in the city due to the devastating consequences of the storm badly affected some public facilities including two schools.
The only microfinance banking institution operating in the district MC-2 Bank was also hard hit by the by storm paralyzing normal financial transactions for the local population.
''I am worried that the only bank we have in this district portion of its roof was removed by the storm and this may create setback for us getting our salary on time,'' Tarnue Kolubah , a primary school teacher at Kolahun Public School expressed in frustration.
The administrations of schools affected have also called on government particularly the Ministry of Education to swiftly intervene to ensure kids learning process at these schools not disrupted due to the damage on their facilities.
Since the storm disaster occurred, there has been no large-scale intervention by both government and humanitarian organizations except the office of the major that provided assistance to few severely affected households.
"We are overwhelmed with the current situation here and do not have the capacity to provide the needed assistance to people affected by the recent storm in this city. I am adding my voice to those affected for the central government to immediately come to their aid because we are overburdened right now,'' Caroline Momo, Kolba City Mayor stressed in an interview.
Currently, most of the people affected by the storm disaster are residing in congested family homes as they eagerly await assistance to begin rebuilding their lives shattered created by the recent storm disaster.
This is not the first storm incident to occur in Kolahun district, but this seems to be the worst with more negative impact on residents.
Four years ago, when a similar storm hit the scale of destruction incurred was lesser than the recent incident.
Report By: Edwin Yallah, Radio Harleygnee, Kolahun, Lofa County