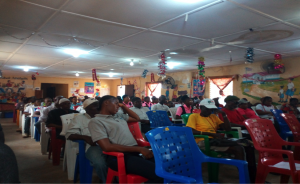 Buchanan, Grand Bassa County – As part of its Liberia Media Development Program with funding by the United States Agency for International Development (USAID), Internews-Liberia has conducted a one-day community media forum in Grand Bassa County to promote democracy and prevent election violence through dialogue.
The interactive forum, held on November 9 at the Bassa Women Development Association head office in Buchanan city, brought together youths, elders, women, security personals, students, motorcyclists, and people with physical amongst others.
Torwon Sulunteh Brown, Internews-Liberia media advisor, during the forum, said Liberia is now at a "critical point" of the electoral processes. She called on citizens to be aware of the situation and how to control it.
"We know what we went through in this country for several years, lives were lost because of this we have come to tell you that violence isn't good most especially in this election period," she said.
Madam Brown said Liberians must be at the forefront of helping to maintain the peace they are enjoying by staying away from violence.
"Your (you all) know that one person violence can cause a country to get into trouble right?" She asked the audience, adding, "So let us avoid violence and think about how we can continue living in peace in Liberia."
The Community Media Forum, according to most of the participants, was the first to insight about violence prevention through dialogue.
There were four panelists, one each from the peacebuilding office, a women organization, the National Election Commission, and a lawyer – who provided legal interpretation of Liberia's election laws.
Meanwhile, Cllr. Onesimus Barwon said legal issues are critical and the right information should be the only information disseminated to avoid tension.
Serving as one of the panelists, the former county attorney of Grand Bassa and Rivercess Counties warned Liberians about spreading falsehood.
"We need to stop this 'they say business (rumor)," this can cause serious problems that might be beyond our control and the peace we are saying we want to keep enjoying will be damaged," he told the participants.
"When legal matters are being addressed by the court, let us all listen to news and stop spreading false information that might cause violence."
Cllr. Barwon was responding to speculations that the Supreme Court of Liberia has ruled against NEC. He termed the speculation as "false and misleading".
"I have been hearing speculations that Liberty Party has won the case between they and NEC and the Supreme Court has agreed with the LP that there were frauds and irregularities in the just ended October election. This is not true, the Supreme Court hasn't received any case from the LP on irregularities and frauds in the just ended ruling," he said.
"The Supreme Court only received a complained from the Liberty Party that the National Election Commission didn't look into their complain before calling for a run-off, therefore the process should be stopped until their complaints can be addressed by NEC."
He said once the "rightful information" is not given to the public there's risk of violence erupting; therefore it needs to be addressed quickly.
"Internews has begun a good step by bringing us together to discuss these issues and if this continues then Liberia will be a country of peace and a role model for other countries," he said.
Participants listened to the panelists for over an hour, understanding the basic messages of peace. They are expected to serve as peace ambassadors for their respective communities.
At the end of the forum, participants thanked the organizers for holding the event calling on Internews and its partners to continue hosting community events across the country.
They said such activities create awareness amongst the public and help prevent misconceptions that lead to tension and subsequent violence between two or more groups.
Report By: Elton Wroinbee Tiah

The claim is rigorous and the content is demonstrably true.
The statement is correct, although it needs clarification additional information or context.
Evidence publicly available neither proves nor disproves the claim. More research is needed.
The statement contains correct data, but ignores very important elements or is mixed with incorrect data giving a different, inaccurate or false impression.
The claim is inaccurate according to the best evidence publicly available at this time.
Upon further investigation of the claim, a different conclusion was determined leading to the removal of the initial determination.
A rude, disrespectful, or unreasonable comment that is somewhat likely to make you leave a discussion or give up on sharing your perspective. Based on algorithmic detection of issues around toxicity, obscenity, threats, insults, and hate speech;