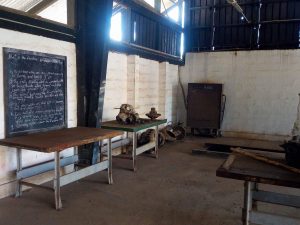 Zwedru, Grand Gedeh County – Zwedru Multilateral High School (ZMHS) is going through a very difficult time as its technical and vocational section is without instructional materials, says the school principal, Joshua Dorbor.
Located in Zwedru city, the school currently has about 800 students from across the country.
Dorbor told LocalVoicesLiberia in Zwedru city that like many multilateral schools built during the administration of former President William R. Tolbert, his school lacks the logistically support to provide Liberians technical skill training to enhance the social and economic development of the country.
"From 2004, we started to run the academic arm of the institution because this institution was established in line with the vocational component because, after graduation form high school, the vocational portion of your study can serve as a gateway to pursue high education," he said.
Mr. Dorbor said since the renewal of the vocational arm of the school, it has been self-reliance in providing instructional materials to train students.
The school currently provides training for young people in eight different disciplines: Agriculture Science, Automatic Mechanics, Business, Carpentry, Home Economics, Electricity, Metal Works, and Masonry.
Headed by Dorbor, the administration struggled to revitalize the vocational training program since 2007 but continues to face several constraints.
"We have some impediments. We have an acute shortage of tools and training equipment to smoothly run the affairs of the school," he said.
Engagements with local and central governments to source funding have gained little rewards, according to the principal. He said the government is still mobilizing resources to meet their requests.
But he is optimistic that if the next government would prioritize the plight of technical education by providing the requisite support to multilateral institutions across the country it could enhance the country's poverty reduction strategy.
"If this government poverty reduction strategy is to be successful, there is a need to sacrifice resources to make sure that technical and vocational training is promoted so that poverty can be reduced in Liberia," he said.
The World Bank funded the establishment of ZMHS in 1976 to train middle-level technicians who are expected to boost the social growth and economic development of Liberia.
At the school, students are also very concern about the lack of support to acquire practical training.
" Like my principal said, we are getting the theory part of the vocational education but our major problem now is the materials for practical," said 10th grader Washington Toe, who is studying tailoring.
Student Toe said the absence of instructional materials is a serious impediment to their study.
Cecelia Wah, an 11th-grade student of the business department, added that her department lacks internship facility to prepare them for the job market.
Report By: Moses Geply