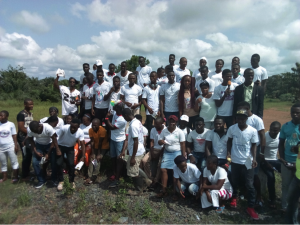 Tubmanburg, Bomi County – The Liberia Women Situation Room (WSR) in collaboration with the Tubmanburg youth association, held a one-day county peace awareness program.
The program, held at the Vincent Compound Multi-Purpose Building in Tubmanburg city, brought together youths from across the county.
Amos Weah, the regional coordinator of WSR for Bomi, Grand Cape Mount and Gbarpolu Counties, said the event was aimed at creating awareness on the peaceful transition of power from one democratically elected government to another in Country.
"We are doing this in order to help our people understand the smooth transition of one government to another democratically elected government that we are expecting in 2018," he said.
Weah added that the awareness was also to educate young people about the effects of violence during this election period.
"Violence is bad and this program is also gear towards educating young people about how violence during election affects us during the period of the election," he said.
A potential run-off between opposition Coalition of Democratic Change and the ruling Unity Party is being delayed due to ongoing legal action by Liberty Party against results of the first round of voting announced by the National Elections Commission.
Liberty Party has accused the NEC of elections "irregularities and fraud". This has ignited mix views and debate about a potential eruption of violence in the country.
At the event in Bomi County, Lahai Fahnbullah, Tubmanburg Youth Association chairperson, asserted that political leaders are mainly instigators of election violence.
He cautioned youth to avoid being carried away "by any decision that will undermine the country's peace and democracy".
"The politicians in our country Liberia are the main people who instigate violence and young people follow and we don't want the youth of Bomi County to get involved in any acts that will undermine our peace," Fahnbulleh said.
Report By: Ibrahim M. Sesay