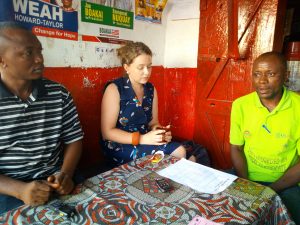 Tubmanburg – Kathleen Nelson, an American Peace Corp volunteer in Tubmanburg, says men should join human rights institutions to help fight against all forms of Sexual Gender Based Violence against women and girls.
She said this would help to drastically reduce the huge number of domestic violence in the communities.
Speaking at a three-hour forum she organized at a local intellectual forum on December 4, Miss Nelson said the 16 days of activism is a yearly event that highlights violence against women and children in the communities and promotes advocacy against these unscrupulous acts.
"Every year we do a 16-day campaign about how we can generate some activism around gender based violence, how do we create awareness, how do we get people to talk about SGBVs, how do we make people stop GBVs in the communities," she said.
"And the idea is that for 16 days people should do something every day, sixteen days of activism, sixteen days of activities.''
She added that the threat of GBV is mainly against women and children, who are the main victims.
Feikai Dolley, chairman of the critical and logical thinkers' intellectual forum, said that men are the main perpetrators of most of the gender based crimes in the communities.
He added that predominantly, women and children are the main victims of GBVs.
"In Liberia, maybe and maybe in other African countries, violence or GBVs are committed if not 90% but up to 80% by men and normally it is against the women, we men are the perpetrators of violence against women, over the years, women have suffered a lot from violence," he said.
However, Dolley claims most of the violence that occurred in the communities are being provoked by the women.
"I agree that men are perpetrators of most of this violence, on grounds that if my husband cannot beat on me, it means that he does not love me. Some men will beat on their wife because they have married them.''
Musu Massaley, a female who attended the forum, disagreed with Dolley's assertion and said women who instigate violence against them as an expression of love are insensitive to its impact on them.
"I was in a relationship, for every time I do small thing he will beat on me, so at that time I got to know that beating was getting too much, so what I did I took him to the police station and he was placed behind bars, later on I left him," she said.
Report By Foday D. Sesay

The claim is rigorous and the content is demonstrably true.
The statement is correct, although it needs clarification additional information or context.
Evidence publicly available neither proves nor disproves the claim. More research is needed.
The statement contains correct data, but ignores very important elements or is mixed with incorrect data giving a different, inaccurate or false impression.
The claim is inaccurate according to the best evidence publicly available at this time.
Upon further investigation of the claim, a different conclusion was determined leading to the removal of the initial determination.
A rude, disrespectful, or unreasonable comment that is somewhat likely to make you leave a discussion or give up on sharing your perspective. Based on algorithmic detection of issues around toxicity, obscenity, threats, insults, and hate speech;