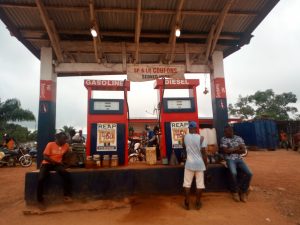 Buchanan – The increasing prices of major commodities and services in Grand Bassa County is posing hardship for locals, according to a to local residents.
Prices of gasoline and fuel have tripled with the current retail price put at LD$460 to LD$500. The price of gasoline and fuel has caused impacted transportation and food prices.
Residents say it's the first time major commodities prices are skyrocketing at this level in the county since the inception of Madam Ellen Johnson Sirleaf presidency in 2005.
They are blaming it on the delay into the electoral process, which fate will be decided by the Supreme Court in a couple of days. The conclusion of the presidential election has been delayed due to a rejection of results from the first round of voting on October 10 by opposition Liberty Party. The party is claiming "irregularities and fraud".
Jackson Doe, a resident of Peace community in Buchanan, said, "citizens are now living in Liberia as if they are still experiencing the civil war days".
"This country is getting too hard just like we are having war," he said. "Even half bag of rice has climbed up to two LD$2,000."
Doe said that some families can no longer have food on a daily basis because there is no job or money to keep them up.
Samuel Dayougar, a gasoline retailer, told LocalVoicesLiberia that the prices of gasoline and fuel are climbing because of theuncontrollably increasing exchange rate between the United States and Liberian dollars.
"Can you Imagine, the United States dollars rate is $1 to LD$127 and if you want to buy United States dollars the rate is LD$129 or 130," he said, asserting that if the US rate keeps climbing, the prices of things will be higher than what it is on now.
Marie Jones says women who are now breadwinners of their families amid these difficulties in the county are feeling the brunt. Jones says her business is struggling because she receives fewer customers these days.
"All these things are happening because this one election is yet to finish, they are saying the matter is in court but we the citizens are the ones suffering from hardships," she said angrily.
Report By; Elton Wrionbee Tiah

The claim is rigorous and the content is demonstrably true.
The statement is correct, although it needs clarification additional information or context.
Evidence publicly available neither proves nor disproves the claim. More research is needed.
The statement contains correct data, but ignores very important elements or is mixed with incorrect data giving a different, inaccurate or false impression.
The claim is inaccurate according to the best evidence publicly available at this time.
Upon further investigation of the claim, a different conclusion was determined leading to the removal of the initial determination.
A rude, disrespectful, or unreasonable comment that is somewhat likely to make you leave a discussion or give up on sharing your perspective. Based on algorithmic detection of issues around toxicity, obscenity, threats, insults, and hate speech;