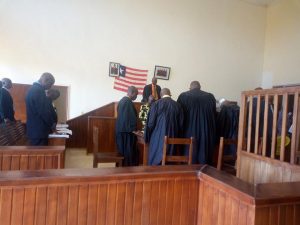 Report By: Henry Gboluma, Jr.
Bopolu City – The 16th Judicial Circuit Court reopened its February term of court without a case on its record.
During the opening program, the assigned judge, His Honored Zoballah A. Kizeku disallowed reporters from recording at the event.
In his chamber, he told a local radio reporter, "Just take note, do not record here."
Though he spoke on the overcrowdedness of the court docket and prison when he took charge, yet there was no single case on the trial docket for this year's February term of court.
Meanwhile, there are 31 images languishing behind the bar at the Bopolu Central prison. Twelve of these cases have already been tried and convicted.
The remaining 19 are still in detention awaiting trial. Out of the 19, three are charged with rape, four for aggravated assault and two for criminal facilitation.
Also, there are three people charged with murder, two for manslaughter and three have not officially been charged, according to the update sheet.
After the official opening of the court, some citizens who attended the event voiced-out their concerns about the court system in the county.
Jonathon Nyanquelleh, a prominent citizen, was shocked by the absence of a case on the docket.
"In the program sheet I saw 'reading of the trial docket and assignment of the cases on the docket' but they were not in the program and were never talk about in the court opening," he said.
Mr. Nyanquelleh said the court must put cases on the docket.
"There are some civil cases, murder, and criminal cases, those people are all in prison, they must be tried," he added.
For her part, the Gender Coordinator of the county, Madam Musu Massaquoi said, "I will do follow up to the court in order to know the cases that will be placed on the docket".
Meanwhile, the clerk of the court of the 16th Judicial Circuit Court, Joseph Y. Thomas, Sr. claimed he was busy after the opening of the court.
He, however, said failed to explain the absence of cases on the court.

The claim is rigorous and the content is demonstrably true.
The statement is correct, although it needs clarification additional information or context.
Evidence publicly available neither proves nor disproves the claim. More research is needed.
The statement contains correct data, but ignores very important elements or is mixed with incorrect data giving a different, inaccurate or false impression.
The claim is inaccurate according to the best evidence publicly available at this time.
Upon further investigation of the claim, a different conclusion was determined leading to the removal of the initial determination.
A rude, disrespectful, or unreasonable comment that is somewhat likely to make you leave a discussion or give up on sharing your perspective. Based on algorithmic detection of issues around toxicity, obscenity, threats, insults, and hate speech;