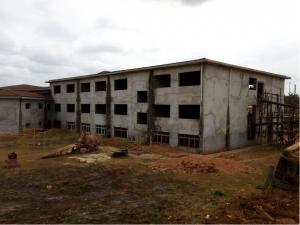 Report By: Fatu Boley in Bong County
GBARNGA, Bong County – Students in Bong County are calling on the county's leadership to push for the completion of the Bong County Technical College (BCTC), which has been under construction in Gbarnga City since 2010.
The students said they are frustrated that the only technical college in the county cannot be completed by the county administration.
More than 350 students of the college are currently having classes in the unfinished building.
They are alleging that political dispute amongst county officials is the cause of the delay.
"If Bong County is to develop, the leaders need to put aside their political differences to move the county's development forward," Samuel Harris, a student of the BCTC told Local Voices Liberia.
"If not, we the poor people's children in the county will suffer and live without education, because when two elephant fight, it is the grass that suffers."
But Lawrence Plator, chairperson of the project management Committee (PMC), said the project has slowed due to the constraints in getting funding from Ministry of Finance.
According to Plator, the cost of the project "was placed approximately around US$4.3 million, and later on, exceeded to US$7.6."
By October 2017, the county had spent more than US$5 million but the project is yet to be completed.
The project is being done by the Liberia China United Investment Group.
The construction project was expected to complete in 2012, following the groundbreaking in December 2010.
Richard Sondah, the vice president for administration of BCTC, is calling on the students to "remain calm and hold their peace as leaders of the county are making plans for the completion of the project".
BCTC was established 2010 and it's amongst 67 development projects that were initiated in the county based on budgetary allocation from the County Social Development Fund (CSDF).
According to Anthony Sheriff, the Bong County's Assistant Superintendent for Development, the county leadership completed 60 of the 67 projects during the Ellen Johnson Sirleaf Administration.

The claim is rigorous and the content is demonstrably true.
The statement is correct, although it needs clarification additional information or context.
Evidence publicly available neither proves nor disproves the claim. More research is needed.
The statement contains correct data, but ignores very important elements or is mixed with incorrect data giving a different, inaccurate or false impression.
The claim is inaccurate according to the best evidence publicly available at this time.
Upon further investigation of the claim, a different conclusion was determined leading to the removal of the initial determination.
A rude, disrespectful, or unreasonable comment that is somewhat likely to make you leave a discussion or give up on sharing your perspective. Based on algorithmic detection of issues around toxicity, obscenity, threats, insults, and hate speech;