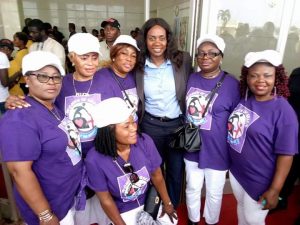 KAKATA, Margibi- An American-Liberian based Christian Charity organization has ended a one-day assessment visit to Gbolo-kata a village worst hit by the deadly Ebola virus where about 96 people lost their lives.
Gbolo-kata a village, situated in Lower Bong county along the Sanoyearoad and located about 20 kilometers from the provincial town of Totota, still lies in ruins with no health care and school for the Ebola surviving members of the community.
The United States-based Women of Grace organization compromising of Liberians and Sierra Leoneans Christian women currently access the post-Ebola situation in Liberia to provide health, education and other basic social services for children orphaned by Ebola.
According to the team leader, Felecia Garlo, their mission to Liberia is also meant to seek a brighter future for thousands of children affected by Ebola especially finding means for possible adoption to American guardians.
"We had series of talk shows in America before coming to Liberia and some women expressed interest in adopting some of these children, but our first concern is to provide some relief supply like food, clothing, medicine and see how we can get them in school". Madam Garlo noted.
She further noted that the Women of Grace intend to build a charity home for children's orphan by Ebola in order to give hope for a better future for the children, many of who are not in school as result of being underprivileged as a result of Ebola killing their parents.
For her part, Bong County, Salala district number six representative, Moima Briggs-Mensah told the villagers that she met the Women of Grace while in route on a flight to Liberia and pleaded with the women group to see the need in helping her constituents.
SingbahYouku, the man who served as town chief during the raging Ebola crisis hopes that the Women of Grace would help solve some of their problems especially providing for children in the village ravished by Ebola.
"As town chief, I nearly escape during the time people were dying in this village, but the clan chief warned me to be the last man to leave" Chief Youku noted.
Meanwhile, the villagers in a unanimous tone thanked the Women of Grace for the assessment and hope their next visit will put an unending smile on their faces.
Feature Photo/Written by Emmanuel Tophic Degleh

The claim is rigorous and the content is demonstrably true.
The statement is correct, although it needs clarification additional information or context.
Evidence publicly available neither proves nor disproves the claim. More research is needed.
The statement contains correct data, but ignores very important elements or is mixed with incorrect data giving a different, inaccurate or false impression.
The claim is inaccurate according to the best evidence publicly available at this time.
Upon further investigation of the claim, a different conclusion was determined leading to the removal of the initial determination.
A rude, disrespectful, or unreasonable comment that is somewhat likely to make you leave a discussion or give up on sharing your perspective. Based on algorithmic detection of issues around toxicity, obscenity, threats, insults, and hate speech;