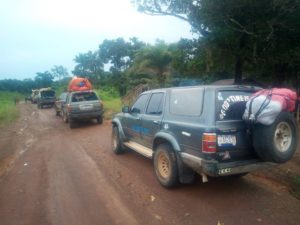 Report By: Henry Gboluma, Jr.
Gbarpolu County – A massive flood on the Bopolu-Monrovia highway continues to make traveling unbearable for commuters this rainy season. The absence of bridges on parts of the road, which leads to Bopolu, Gbarpolu County capital, and beyond, also causes the road to submerge when heavy rain falls.
The latest flood incident occurred after a heavy rain that began on Sunday morning [August 20] around 4:00 a.m. and lasted up to Monday 2:00 p.m.
Nine cars heading to Monrovia from Jungle James Mining Camp, Belle Yealla, Henry Town and Bopolu City were stranded at Zalamu Town. Eight others from Monrovia were also forced to remain parked at Compound-su.
Over a hundred stranded passengers spent last Tuesday night waiting at both end of the flood.
"Since 7:00 a.m this morning we came here [and] it's now 5:45 Pm, we are still here because of this Zalamu Water," explained Layee Biility, a commercial driver.
Abraham Kamara, another driver added: "I've been here from 12 this morning. This water business is a serious problem for us drivers and even our passengers."
"It is making traveling hard [unbearable] for us in this part of Liberia; our people [county authority] need to tackle this road issue with urgency," Maima Flomo, a passenger said.
At the Zalamu water crossing point, some locals of the town were charging LD$250 to cross one motorbike.
Junior D. Flomo, the head of the men ferrying the bikes, said that it was an opportunity to make some money out of the flood disaster.
"We are happy to be crossing their bikes – we have crossed over 30 bikes today, and we are still here to help more of them," he said.
Matthew William, a motorcyclist who could not afford to pay the LD$250, said he was abandoning his trip to Monrovia and return to Bopolu City.
"We are actually suffering from this bad road. The road is actually bad. The bridges are all cut. Cars are all parking," he said, adding, "If nothing is done and it goes for more than a week, we will starve in this county."
A vehicle belonging to the County Health Team was also constrained to abandon its trip to Monrovia.
In fact, most of the motorcyclists who have traveled from Monrovia to Bopolu City and other destinations said the flood had damaged a major bridge along the road.
Last month, Gbarpolu County Superintendent J. Keyah Saah led a team to open some of the major waterwaysalong the route including the Zalamu water crossing point, but it now seems their effort is having little impact.

The claim is rigorous and the content is demonstrably true.
The statement is correct, although it needs clarification additional information or context.
Evidence publicly available neither proves nor disproves the claim. More research is needed.
The statement contains correct data, but ignores very important elements or is mixed with incorrect data giving a different, inaccurate or false impression.
The claim is inaccurate according to the best evidence publicly available at this time.
Upon further investigation of the claim, a different conclusion was determined leading to the removal of the initial determination.
A rude, disrespectful, or unreasonable comment that is somewhat likely to make you leave a discussion or give up on sharing your perspective. Based on algorithmic detection of issues around toxicity, obscenity, threats, insults, and hate speech;