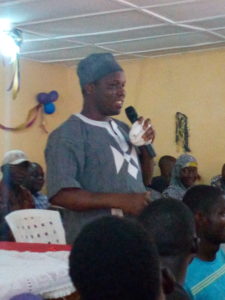 Report By: Mac Samah
Nimba County – As plan by some people of Nimba County to divide the county into two has been on the fringes of political discussions since the end of the 2017 elections.
As the discussion finds its way across the county, District #7 Representative Roger Domah recently concluded a meeting in his constituency soliciting views of constituents of the issue.
The meeting, which brought together people from across the district, concluded in Bahn and Saclepea Cities respectively as more than 75% of constituents attending voted against the proposed division.
The suggestion to split the Northern Liberian county surfaced in 2011 after the presidential and senatorial elections when Senator Prince Johnson retained the seat for a second term. There were growing suggestions to push for the division but the move would later lose momentum.
It has since resurfaced after the 2017 elections and this time supported by Metrics Gontee and Daniel Bleh amongst others. Others that are said to be allegedly pushing for the split of the county are Hon. Samuel G. Kogar of Nimba Electoral District 5 and Hon. Larry P. Younquoi of District 8.
When asked about his support for the division of the county, Hon. Younquoi said he reserves all comments until the petition is brought before the legislative caucus of the county at which time his comments will be necessary.
The petitioners are arguing that splitting the county would create job opportunities for its growing population and would ensure equal distribution of the county's natural resources.
They further argue that smaller counties benefit US$200,000 from the government, which is a "disservice to Nimba because of its size, population, and the resources extracted from the county".
In early July, a group of Nimbaians [people of Nimba] under the banner "United Nimbaians Against the Division of Nimba" submitted a counter-petition against the division of the county to the Legislative Caucus through Senator Thomas Grupee.
The group is headed by some prominent and eminent sons and daughters of the county based across the country.
Miss Daintowon Paybaiyee, one of the advocates in defense of United Nimba, said, "The strength of Nimba lasts in the population. Let no one fool us to divide ourselves."
The group says the division of the county is a clever calculation by politicians in and out of the county who want the county divided for their personal benefits.

The claim is rigorous and the content is demonstrably true.
The statement is correct, although it needs clarification additional information or context.
Evidence publicly available neither proves nor disproves the claim. More research is needed.
The statement contains correct data, but ignores very important elements or is mixed with incorrect data giving a different, inaccurate or false impression.
The claim is inaccurate according to the best evidence publicly available at this time.
Upon further investigation of the claim, a different conclusion was determined leading to the removal of the initial determination.
A rude, disrespectful, or unreasonable comment that is somewhat likely to make you leave a discussion or give up on sharing your perspective. Based on algorithmic detection of issues around toxicity, obscenity, threats, insults, and hate speech;