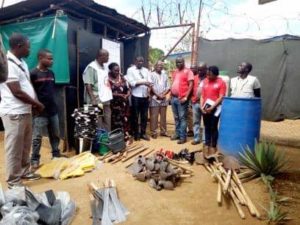 Gbarpolu County – The Secretary General of the Liberian National Red Cross Society (LNRCS), Madam Saybah Y. Tamba along with a delegation, on Tuesday, October 30, 2018, visited Gbarpolu County to access future needs of the chapter and also provided some farming tools to support farmers and the rehabilitation of prisoners at the county's correction center in Bopolu City.
The delegation held meetings with Red Cross volunteers, county authorities and locals while in the county from October 30 – November 1, 2018.
In one of the meetings, the Field Officer of Gbarpolu, Seth Tarweh disclosed to the delegation that the chapter executive committee provided L$9,500 as support toward the existing volunteers' cassava farm. He also disclosed that the chapter intends to undertake cash crop cultivation, vegetable farming and construction of modern multipurpose office.
He said volunteers have targeted vegetable farming, noting that it will help to raise quick money to support office construction as well as the cash crop growing.
In response, the head of the delegation, Madam Tamba welcomed the ambitious plans of the chapter and affirmed support towards the three proposed plans. But she wants volunteers to document their ideas so that it can be easily understood for urgent support.
The said the Red Cross will prioritize the construction of a modern multipurpose office for the county, noting that that will help the rest of the proposed activities.
She provided some farming tools to support the current volunteers' cassava farm and said the tools will also be used for future vegetable garden works.
The farming tools include 30 cutlasses, 50 regulars' hoes, 30 rain boots, and 30 raincoats. Others are 15 watering cans, 39 diggers, 30 rakes, and 30 shovels amongst others. They also provided 15 plastic chairs and two office tables.
Receiving the items, a member of the chapter Fatu Jabata thanked the SG and promised that it will be used by the volunteers to keep on their farming works in the interest of the chapter.
During another meeting with locals, the team made inquiries on an earlier request for farmland to be used for cash crop farming.
The community agreed to give land to the Red Cross for agricultural purpose since its presence in their community will benefit them in many ways.
Meanwhile, local authorities and the Red Cross have pledged to work together in promoting the government's agenda aim at meeting the needs of the most vulnerable.
They also visited the prison compound and provided farming tools to support government's rehabilitation plans for inmates.
The farming tools include 15 cutlasses, 10 regulars' hoes, 10 rain boots, 10 raincoats 5, watering cans, 11 diggers and 10 rakes amongst others. Currently, there are 29 inmates in detention at the correction center.