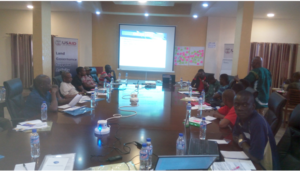 Written by Elton Wroinbee Tiah


Participants at the training
Buchanan, Grand Bassa- over 30 community Radio Journalists from RiverCess, Margibi and Grand Bassa Counties on, Friday, November 2, 2018, ended two days media training on reporting Liberia Land sector.
The third regional media training was conducted by the Liberia Land Authority (LLA) in collaboration with the Land Governance Support Activities (LGSA) with support from the United States Agency for International Development.
Arthur Tucker, Public Relation Officer, LLA said the media training was aimed at advancing the knowledge of local journalists on covering Liberia's land sector effectively and efficiently.
"The training targeted topics which included; critical media reporting in land reform, reporting Land Reform in Liberia, Different ways of writing stories on Land and many others", He said.
He Continued: "Land conflict is very dangerous and so we provided in-depth understanding for Community Radio Journalists because they are the one that follows the day to day activities of the communities."
Tucker noted that LLA and LGSA with support from USAID are thinking about working with community Radio journalists in creating more awareness and community outreach their communities now that the land rights act has been enacted into law.
"LLA and LGSA with support from USAID is [are] trying to move into towns and villages to create more awareness on Land matters in Liberia. You the community journalists are the one that will be used" He asserted.
The LLA public relations officer furthered that female participation is very important in reporting the Liberia land sector, adding that community radios should encourage more females to join the men.
Richlue O. Burphy, Communications and Outreach Specialist, LGSA mentioned that active media participation in land reform is particularly critical to the implementation of Land rights policies and laws.
He added that the media is the institutional Prerequisites for participatory democracy.
"The media is a powerful tool that can be able to change perceptions of citizens to see benefits of land reforms and can be empowered to hold their leaders accountable," Burphy told participants.
He noted that that the land problems in Liberia always elicit emotive reactions, reporting land issues has always got a political connotation alongside the issues affecting the ordinary citizens.
"Land policies are always full of legal jargons which make it hard for journalists especially the ones within the rural areas to interpret the impact of certain judgment or policy directions by either the government or the judiciary to ordinary citizens" he pointed out.
Meanwhile, participants from the three counties thanked the organizers for their continuous support toward improving the media sector in Liberia.