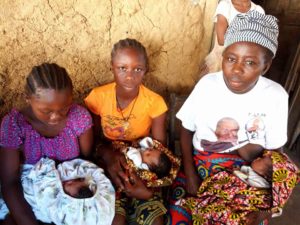 Report By: Henry B. Gboluma
Bomi County – Zoe Jallah, 24, was already struggling to fend for herself before she recently gave birth to a triplet. Then, catering to the children added to her troubles; however, she is happy to have her babies.
She delivered the male child by herself. As for the other two – both female babies – were delivered by doctors through operation at the Liberian government hospital in Tubmanburg City, Bomi County.
After a week, the father of three newly born babies, Jonathon Hills was interviewed on Radio Bomi. He revealed he and his wife were "finding it difficult to cater to our children."
"The father is a farmer residing in Gbarpolu County while the [triplets] mother is a mere housewife residing in Tubmanburg, who has no source of funding for survival," wrote Zinnah B. Cassell on his Facebook timeline. Cassell later conducted an interview with Hill on the local radio station.
When Local Voices Liberia re-posted the plight of the triplet and their parents on its Facebook page on November 30, 2018, the news spread quickly, attracting concerns from several goodwill individuals in and out of the country.
By December 4, 2018, the Local Voices Liberia's post had reached 11,411 people in and out of Liberia and it was shared 23 times while 49 persons also liked it.
Several people following the post commented as well, including Tourmah Sumo, who wrote: "God will surely supply their needs according to his riches."
A US-based Liberian, Jennet Howard inboxed the media network seeking to help the mother and her three babies.
"How can I be a help to these babies through this medium?" she asked.
Madam Howard was concerned about the integrity of this network, whether her support through LVL network could reach the triplets' family.
After a successful back and forth communications, she finally sent US$90.00 as her initial support to the family through Money Gram.
The amount was collected and delivered to the couple in the presence of reporters from Radio Bomi and Pumah Radio based in Tubmanburg City.
Receiving the money, Zoe said: "I want to say thank you first to your group (Local voices media network) and the woman that you said sent this money for us. We are so happy, let God bless the woman and continue to touch her hearts to keep remembering these babies because it not easy. This is the first time and we need more support from people in and out of Liberia."
Hill, the father of the triplets, then lauded the network for its reporting and said it has prompted support from several others. He disclosed that they have received some assorted baby's materials from a US-based group, Cycle Concern foundation through their branch office in Liberia.

The claim is rigorous and the content is demonstrably true.
The statement is correct, although it needs clarification additional information or context.
Evidence publicly available neither proves nor disproves the claim. More research is needed.
The statement contains correct data, but ignores very important elements or is mixed with incorrect data giving a different, inaccurate or false impression.
The claim is inaccurate according to the best evidence publicly available at this time.
Upon further investigation of the claim, a different conclusion was determined leading to the removal of the initial determination.
A rude, disrespectful, or unreasonable comment that is somewhat likely to make you leave a discussion or give up on sharing your perspective. Based on algorithmic detection of issues around toxicity, obscenity, threats, insults, and hate speech;