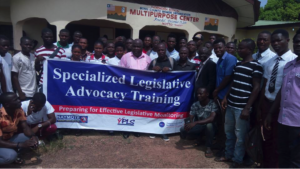 Report By: Moses Bailey
Gbarnga – Naymote Partners for Democratic Development, a prime democracy advancement institution in Liberia has intensified it youth legislative policy dialogues in Bong and Nimba Counties.
The dialogue is designed to deepen young people understanding on the workings of the Liberian Legislature as the fulcrum of Liberia's democracy because of its constitutional responsibilities to enact laws, represent citizen interests, oversee executive policy implementation and performance. The event is improving young people skills to engage in constructive legislative advocacy and monitoring.
Representatives, Larry Younquoi, Joseph Sonwabai from Nimba County and Robert Womba, Moima Briggs-Mensah, as well as former representative, George Mulbah from Bong County spoke to five policy dialogues organized by NAYMOTE's Regional Office in Bong and Nimba Counties.
These Members of the House of Representatives addressed participants on the workings of the Liberian Legislature and Effective Tools for Legislative Advocacy with specific focus on: What is Legislative Session?, How many votes needed to pass a Bill into law?, How a Bill becomes law?, What are the Committee Hearing processes?, How are both Houses structured?, What are the various types of legislation?, How does a Bill differ from a resolution?, What happens when a Bill is introduced? and effective legislative monitoring.
Former Representative George Mulbah lauded NAYMOTE for organizing such events and called on the youth to make maximum use of the knowledge acquired to constructively engage their lawmakers. "I think these are the kinds of forums needed for our young people, especially during elections. This will help the youth to clearly understand how the legislature works, making them know how to make political decisions," Mulbah said.
One participant, John Flomo, Bong County Coordinator for the Ministry of Youth and Sports said "this training was very educative for us young people. We recommend to NAYMOTE to continue this training across the Country because it helps us to understand the working of the legislature and its leadership."
The Executive Director of Naymote Partners for Democratic Development, Eddie Jarwolo, said his institution is strengthening citizens' engagement in legislative work and making lawmakers more responsive, accessible and accountable to citizens. He thanked young people for turning out at the various events, actively and constructively engaging their lawmakers and getting quick feedback on critical issues relating to their electoral districts and activities of the lawmakers, etc.
The youth legislative policy dialogue is part of grant activities to NAYMOTE funded by the National Endowment for Democracy (NED).

The claim is rigorous and the content is demonstrably true.
The statement is correct, although it needs clarification additional information or context.
Evidence publicly available neither proves nor disproves the claim. More research is needed.
The statement contains correct data, but ignores very important elements or is mixed with incorrect data giving a different, inaccurate or false impression.
The claim is inaccurate according to the best evidence publicly available at this time.
Upon further investigation of the claim, a different conclusion was determined leading to the removal of the initial determination.
A rude, disrespectful, or unreasonable comment that is somewhat likely to make you leave a discussion or give up on sharing your perspective. Based on algorithmic detection of issues around toxicity, obscenity, threats, insults, and hate speech;