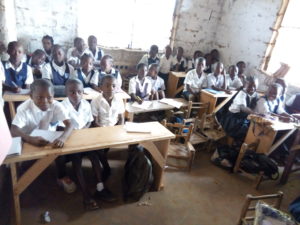 Report By: Elton Wrionbee Tiah
Buchanan – Madam Magdalene Harris of Janjay Village of Hope has presented 75 armed desks to needed schools in Grand Bassa County.
In 2018, Local Voices Liberia reported that students of Sarah Sampson George School, Kpelle Town Public School amongst other public schools in Buchanan city were using their laps as desk during classes.
Madam Harris, who is a regular reader of LVL articles and reports, read the story and decided to help some of the needed schools.
She presented to Sarah Sampson George School and Kpelle Town Public Schools several armed desks to ease the stress of the students and make learning conducive learning for the students.
Madam Harris said it pains her heart as a Liberian when she sees children, who are the future leaders of the country, struggling to learn.
" I saw the story that was published by Local Voices Liberia and tears rolled down my cheeks because myself passed through similar struggle", she asserted. "These desks will benefit more than 300 students because it's four persons per desk".
Martha Porter, Principal of the Sarah Sampson George School in a happy mood, received the desks and thanked the donor for the gesture.
" I first thank you goes to God, the next thank you goes to the journalist who took upon his time to write the need of our schools," she said, thanking Madam Harris for being farsighted to help the students.
"Many journalists these days only focus on story that will give them money but this Local Voices reporter is always with the common people."
We have cried over and over but all the lawmakers, politicians didn't care. Thank you Madam Magdalene Harris for saving us ", Porter noted.
Meanwhile, Hannah Tarr, a parent whose child attends the school, told Local Voices Liberia that Madam Harris is a "true Liberian".
"If we had 10 of Madam Harris in the United States, Liberia would have had more development," she said.
Madam Tarr encouraged the donor to continue her gesture, adding that God will multiply her blessing.
Hilary Coleman, another parent, mentioned that the donation was timely, something he says will go a long way.
"This is what we call donation when people are in need and you help them why in that need then it is good. Thanks to Madam Magdalene Harris for helping our children," he said.

The claim is rigorous and the content is demonstrably true.
The statement is correct, although it needs clarification additional information or context.
Evidence publicly available neither proves nor disproves the claim. More research is needed.
The statement contains correct data, but ignores very important elements or is mixed with incorrect data giving a different, inaccurate or false impression.
The claim is inaccurate according to the best evidence publicly available at this time.
Upon further investigation of the claim, a different conclusion was determined leading to the removal of the initial determination.
A rude, disrespectful, or unreasonable comment that is somewhat likely to make you leave a discussion or give up on sharing your perspective. Based on algorithmic detection of issues around toxicity, obscenity, threats, insults, and hate speech;