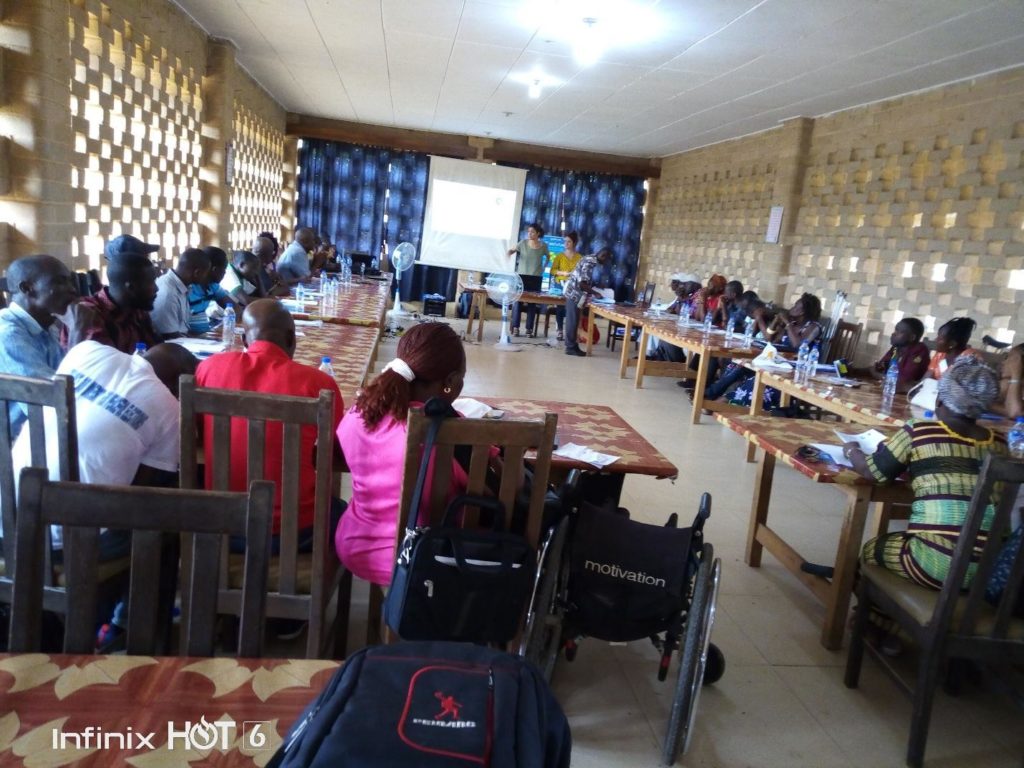 Gbarnga – In an effort to empower people living with disabilities, AIFO-Liberia has concluded a weeklong inclusive social business training for 38 members of disabled organizations.
The training was held in Gbarnga recently and brought together participants from Bong, Nimba and Grand Gedeh Counties.
The Local Project Coordinator for AIFO-Liberia, J. Sylvester Roberts, said the training is part of the implementation of his organization's 'Disability and Start Up, Civil Society as Protagonist of Inclusive Development in Liberia' project.
Roberts told LocalVoicesLiberia that the project is aimed at empowering people with disabilities through inclusive and social business skills for sustainable livelihoods.
He said AIFO-Liberia believes when people with disabilities are skilled in innovative, inclusive and social business skills, there is a huge possibility that they can do business and be self-sustainable.
"So the entire intend now is to empower them in a new innovative way so that they can go out there and be more sustainable in business ventures," he said.
He said 120 persons with disabilities will be empowered through grants during the course of the three-year project, following presentation, evaluation and selection of different business plans that will be submitted by the project's beneficiaries.
Facilitators of the training came from the Department of Economics of the University of Florence in Italy.
Chiara Chimirri, one of the facilitators said she is impressed by the works AIFO-Liberia is doing with people living with disabilities in Liberia.
She said the participants of the training were motivated to receive skills in inclusive social business development.
Chimirri said the training was a training of trainer's workshop to prepare the participants to multiply the knowledge to their colleagues who did not have the opportunity to attend.
"The impression is positive, some of them already have some business knowledge and tools and some are new to this idea. But if they find an environment that is welcoming that is warm and understand that disability is not a problem to solve but a situation to cope with, then of course we are going to have a positive result," she said.
Two of the participants, Morgana M. May-Cole and Emary A. Jessie lauded AIFO-Liberia and termed the effort as a great step towards improving the lives of people with disabilities in Liberia.
May-Cole is the treasurer of the National Union Organization of People with Disabilities and Jessie is the head of Christian Association of the Blind in Bong County.
"Having this knowledge will be a dignity to people with disabilities since we are championing the cause of improving the lives of people with disabilities," May-Cole said in an interview.


The claim is rigorous and the content is demonstrably true.
The statement is correct, although it needs clarification additional information or context.
Evidence publicly available neither proves nor disproves the claim. More research is needed.
The statement contains correct data, but ignores very important elements or is mixed with incorrect data giving a different, inaccurate or false impression.
The claim is inaccurate according to the best evidence publicly available at this time.
Upon further investigation of the claim, a different conclusion was determined leading to the removal of the initial determination.
A rude, disrespectful, or unreasonable comment that is somewhat likely to make you leave a discussion or give up on sharing your perspective. Based on algorithmic detection of issues around toxicity, obscenity, threats, insults, and hate speech;