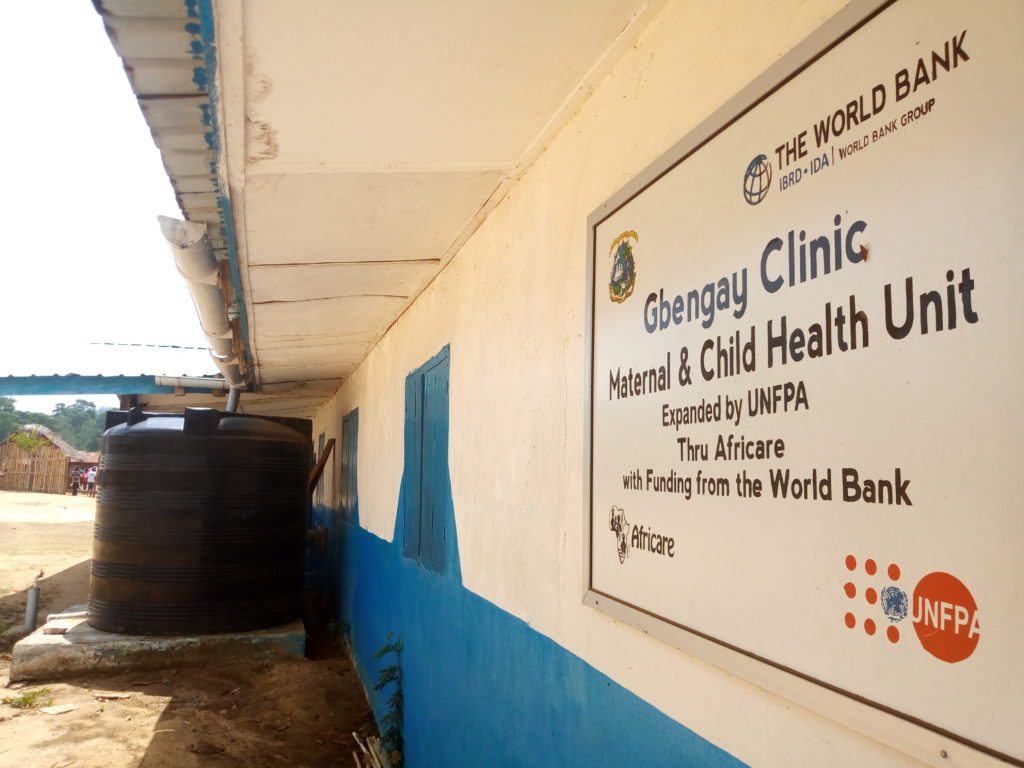 Gbarpolu – Several pregnant women seeking prenatal care at the only maternal and child health in Bokomu District, Gbarpolu County have commended the government and partners setting up the facility to cater for them.
The Maternal and Child Health Unit, which is 25 kilometers away from the Gbengay Clinic, was constructed in by UNFPA through Africare with funding from the World Bank. It was opened for use in 2017 and has since been providing care for scores of pregnant women from across the district. The facility has six rooms that comprise of three beds each.
Although it far away from the main health facility in the district, hundreds of big belly women are making use of this maternal waiting home.
Many of them move in when they are in the final trimester – between the seventh or eighth month. At the home, they have easy access to a certified midwife who regularly checks them and at the same time gave them essential medicines.
One of the pregnant women who had traveled over a 100 kilometer to enrolled at the maternal waiting home told LocalVoicesLiberia that she feels save ahead of delivery.
"I want to thank the government for this big belly home they built for us here. It is really helping us in this county," said 35-year-old Maimai Yarsiah of Belle Fassama town in Belle District.
Maimai, who is now pregnant for the fifth time, added, "even though this place is far from us, but it is good for me to be here for some time to delivery in good hands."
For Jartu Sickie, another pregnant woman who had traveled from the Jungle James Mining Camp to stay at the home, says the home as "second heaven" while praising government and partners for the facility.
"We can provide our own food. So, I'm just appealing for the government to be sending food and other things for us here."
Cecelia Tokpa who went to the facility when she was eight months pregnant, said made the decision after she was falling ill repeatedly.
"I will be here and delivery before I go back," she said, adding that the insufficient food is a major problem.
"To get food here not easy, so when daybreak we can put rice together and cook one time and eat."
"The woman here can check us every morning and evening. She gives us medicine all the time. She talks to us good every day," adds Eva Joe, another pregnant woman. "But our major problem is food, we want other people to help us too."
Faith Cole gave birth to healthy baby bout two weeks ago, but she's still at the home. The nurse says Faith will remain there for a few more weeks and receive proper care before she is discharged.
"I want to encourage other women, to always come here to Gbengay Clinic to give birth, this place is good," says Faith.
Krubo Sumo, the only assigned nurse at the home, says the facility has the basic household utensils that allow the women to feel at home.
"They are not bringing bedsheets, mattresses, buckets and cooking pots, everything here," she says. "The only thing they can bring here is food."
According to Sumo, the current enrollment of six pregnant women and a baby mother is the lowest at the waiting home in the last couple of months.
"Some time I can't sleep, the entire six rooms can be occupied with them (pregnant women), so the six here is the least you met," she said.
As of March 23 this year, 234 pregnant women had benefited from the facility, out of which 220 women have delivered safely and successfully.
Over the period, 10 complicated cases were transferred for prompt care, while maternal death is yet to be recorded, according to the maternal waiting home's record.  
The nurse pointed out that regular awareness outreach and training for Trained Traditional Midwives (TTMs) in catchment communities are factors buttressing the effectiveness of the maternal waiting home.
"At those meetings, we encourage the TTMs to always advise big belly in their towns to come and stay here and give birth and they are listening to us," Sumo added.