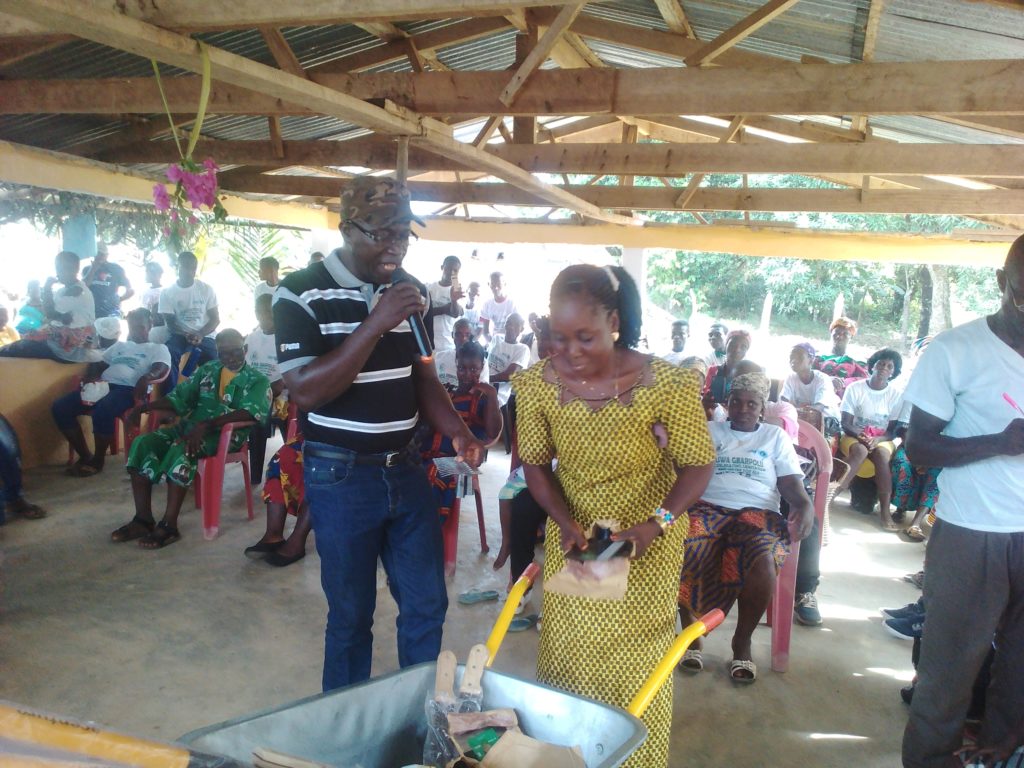 Bopolu City – Gbarpolu County authority and NGOs on Friday, April 26, 2019, declared 15 communities open defecation Free (ODF) at a special program held in Gynimah Town in Bopolu District, Gbarpolu County.
The activity was part of the Accelerated Sanitation for Water for All project being implemented by Evangelical Children Rehabilitation Program (ECREP) with funding from UNICEF, says Anthony S. Tokpa, the project Supervisor.
He said the project intends to reduce sickness in communities, restore communities' dignity and maintain residents' religious benefits.

"We started this self-help CLTS activity in 20 towns and through our engagement, 15 of them realized that building a house, and in fact living in a town without toilet poses danger to their health, so they built their own latrines using local materials," Tokpa said.
Bomboma, Zalamu, Underwear, and Bambuta are some of the other communities that have gained ODF status.
But he said Farwen Town, Lowoma, Jallahlone Town, Guyanta and Dorlorla are still Open Defecation Communities.
Each of the 15 towns received one wheel barrier, two shovels, three whippers, three rakes and two cutlasses and other items.
Making remarks on behalf of the ODF communities, Charles Jackson of compound Su Town thanked ECREP and the government for pushing them to do the right things for themselves.
"Some time, our own people used to give us hard time, but through ECREP continuous visitation and encouragement, we are ODF today. So let me say a big thank on behalf of my friends to the office of the Superintendent for the role you play – we saw your letter asking us to collaborate with ECREP and we did," he said.
A Female Town Chief, Janga Tokpa of Underwear Town – one of the beneficiaries – stressed the importance of the communities buttressing government's effort.
"We always tell our people to keep helping the government. This is just one of the example. I am very happy to receive the materials for my town. I will protect it to benefit my people," she said.
UNICEF Representative, J. Tarweh Johnson called on the towns to make use of the idea they acquired during the project period, "so that they can keep living in a clean environment".

"So, you need to design community-driven plan for you to continue to have latrines in your respective towns," Johnson said.

Also speaking during the occasion, Gbarpolu Superintendent, J. Keyah Saah said UNICEF did not make mistake to support ECREP to help us, saying, "Cleanness is next to Godliness".

"Please be open to good living to remain healthy and support the pro-poor agenda. I will keep watching you with my eagle eyes," he added.

For his part, the Lead for the National Technical Coordination Unit of the CLTS, Jimmie Slobor said, "Today you have been declared ODF communities, but you have added three months to perform to keep the communities clean."

Jimmie disclosed that currently, there are 555,697 persons living in 2,227 ODF communities in 55 health districts out of the 92 health districts across Liberia.     
Report By: Bendu White In Gbarpolu County

The claim is rigorous and the content is demonstrably true.
The statement is correct, although it needs clarification additional information or context.
Evidence publicly available neither proves nor disproves the claim. More research is needed.
The statement contains correct data, but ignores very important elements or is mixed with incorrect data giving a different, inaccurate or false impression.
The claim is inaccurate according to the best evidence publicly available at this time.
Upon further investigation of the claim, a different conclusion was determined leading to the removal of the initial determination.
A rude, disrespectful, or unreasonable comment that is somewhat likely to make you leave a discussion or give up on sharing your perspective. Based on algorithmic detection of issues around toxicity, obscenity, threats, insults, and hate speech;