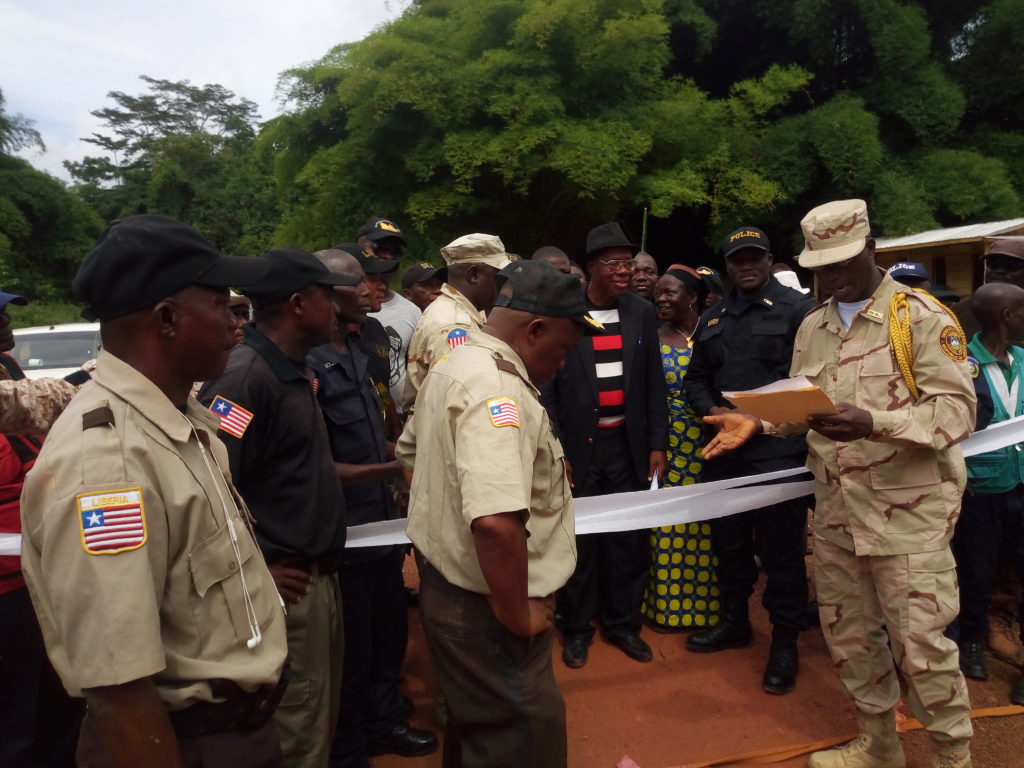 Bar Town – Grand Gedeh County's joint security has moved the Toe Town checkpoint to Bar Town, Cestos River Bridge, near Nimba and Grand Gedeh Counties boundary. The action was taken over the weekend.
The Cestos River bridge checkpoint is 72 kilometers away from Grand Gedeh's capital city, Zwedru.
According to the joint security Chairman, Col. Morris Kamara of the Liberia Immigration Service (LIS), the move is to curtail increasing criminal activities – ranging from illegal entry of narcotics substances, and foreigners, who bypass the checkpoint overnight to illegally enter the county.
"Since we took over as LIS commander in Grand Gedeh and being the chairman for the joint security in the county, we realized that the Toe Town checkpoint which served as number one entry point to Grand Gedeh from Northern Liberia has a bypass. According to security investigations, this causes an increase of ghettoes and influx of aliens in Grand Gedeh," the LIS boss said.
Meanwhile, Col. Kamara called for collaboration, coordination, and cooperation amongst the citizens of Bai Town for a crime-free Grand Gedeh County.
Also speaking in Bar Town, Grand Gedeh County police superintendent Joshua During admonished officers assigned at the checkpoint to remain committed to their duty and avoid harassing citizens.
He, at the same time, told officers that they should respect human rights and government officials, warning that if any officers found liable of these acts will be dismissed.
The Grand Gedeh County police detachment superintendent said while it is true that they have less manpower in the county, they are trained to protect lives and properties.
Speaking on behalf of Bar Town residents, the Town Chief C. Paye Cooper expressed happiness for the presence of security officers in his town and promised that his community will collaborate with the peace officers.
On behalf of the town, Cooper than donated a 25 watts solar panel to provide electricity for the checkpoint and L$15,000.00 to the officers.
He also promised the officers that the town will cover their accommodation cost while they remain in the town.
For his part, B'hai District Commissioner Williams Quarty, who spoke on behalf of the county local leadership, welcomed the decision of the joint security for moving the checkpoint to Bar Town, Cestos River Bridge.
Commissioner Quarty also promised to work with the security officers to foster a cordial working relationship.
Report By: Ben T.C. Brooks In Grand Gedeh County

The claim is rigorous and the content is demonstrably true.
The statement is correct, although it needs clarification additional information or context.
Evidence publicly available neither proves nor disproves the claim. More research is needed.
The statement contains correct data, but ignores very important elements or is mixed with incorrect data giving a different, inaccurate or false impression.
The claim is inaccurate according to the best evidence publicly available at this time.
Upon further investigation of the claim, a different conclusion was determined leading to the removal of the initial determination.
A rude, disrespectful, or unreasonable comment that is somewhat likely to make you leave a discussion or give up on sharing your perspective. Based on algorithmic detection of issues around toxicity, obscenity, threats, insults, and hate speech;